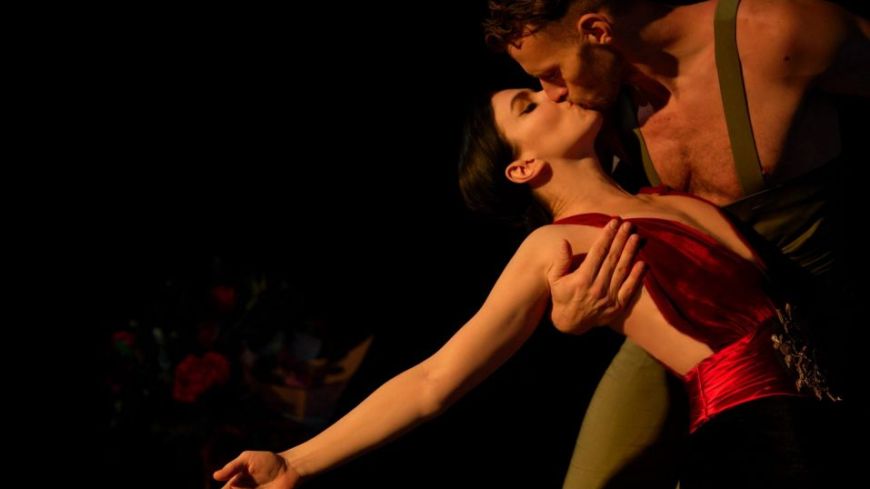 Company
Bird & Carrot in association with the Pleasance Theatre Trust
Production
Alexandrina Markov (producer), Dido Veldman (director and choreographer), David Price (composer), Nina Kobiashvili (set and costume), Oleg Mikhailov (video artist), Ben Ormerod (lighting design).
Performers
Natalia Osipova (Carmen), Isaac Hernández (Escamillo), Jason Kittelberger (Don José),
Hannah Ekholm (Michaela), Eryck Brahmania (Camera man/fan/cleaner).
Since Bizet's opera was first staged in 1875, based on Prosper Mérimée's love story about Don José, a soldier, a peasant girl, Escamillo, a bullfighter and Carmen, the flirtatious gypsy, Carmen has been creatively adapted and updated afresh from the Broadway musical, Carmen Jones to Matthew Bourne's The Car Man.  
After being postponed last year during lockdown, the world premiere of Didy Veldman's intimate dance-drama, Carmen took place on 17th December, 2021 in Edinburgh. With a music soundtrack combining orchestral extracts from Bizet's opera and new compositions by Dave Price, the cast of international dancers, Jason Kittelberger, Isaac Hernández, Hannah Ekholm and Eryck Brahmania is led by the virtuoso ballerina, Natalia Osipova of the Royal Ballet.
With a backdrop scene of a city apartment block, the Carmen set comprises a large sofa, coat stand, full length mirror and iconic film director chairs. Cinematography is at the heart of the contemporary, slimmed down narrative in which Brahmania plays a camera man, capturing the dancers' every move – in character and off stage - with the click of the clapper board as the next scene is snapped. While this voyeuristic vision is a clever device, the continuous frantic rushing around by the film maker, even into the auditorium, becomes rather distracting.
The opening sequence is fast paced action to the strident sounds of an electronic music score with acrobatic leaps, axels and jetés.  First dressed in rehearsal T shirt and leggings, Carmen changes into a red velvet basque, satin cummerband and black 'cigarette' trousers akin to a matador's suit of lights.
The plot follows the twist and turns of the tangled love interests between José, Michaela, Carmen and Escamillo, which echo the personal relationships between the dancers when relaxing on the sofa in the Green Room. Carmen often seems lost and vulnerable, staring intently at herself in the mirror, perhaps searching to find her true reflection.
Each scene is perfectly matched to the seamless flow of familiar Bizet tunes criss-crossing with a romantic 1950s-style movie score and melancholic violin and cello sequences.  As dark feelings of jealousy radiate, a passionate Pas de deux with Carmen and José to a Tango rhythm in slow, sensual motion. Jason Kittelberger has a strong muscular physicality, a large bear of a man, yet he holds Natalia in a tender embrace.  She prowls like a sleek panther, eyes alert, ready to pounce on her prey, her slender arms and legs extended in straight linear precision with every high kick; in one breathtaking move, she wraps her foot around his neck like a snake, drawing him closer. 
Watching from the wings, Michaela is consumed with rage, putting on Carmen's red hat and cape, as the two rivals prepare to fight for their man.  With her teasing, taunting manner, Carmen casually dismisses José and turns her flirtatious smile and guile to entice Escamillo into a dangerous game of seduction; the Mexican dancer Hernández brings cool,romantic Latino charisma to the heroic Torero character with soulful intensity.  
The colour crimson, blood red dominates the stage design from a flurry of rose petals to the fabulous swirl of the Matador's cloak as the dramatic tale of love, hate and revenge races to its terrifying, tragic, but rather sudden, conclusion.  This short, minimalist performance could certainly be extended to develop characterisation and the cultural heritage of Mérimée's novella, for a full length production with live music.  The Edinburgh International Festival 2022 or 2023 perhaps?
Natalia Osipova is a truly dazzling, dynamic dancer combining acrobatic agility, acting skills and elegant balletic poise. Her insightful, psychological portrait expresses every facet of the feisty, free-spirited Carmen with vivacious energy and ever-shifting, pure emotion.
'Love is a rebellious bird that no one can tame
Love is a gypsy's child,
If you do not love me, I love you
If I love you, then beware!'
from Habanera, Carmen (Bizet)
Show times:
The World Premiere took place at the EICC on 17th December, 2021. Run ended.