Image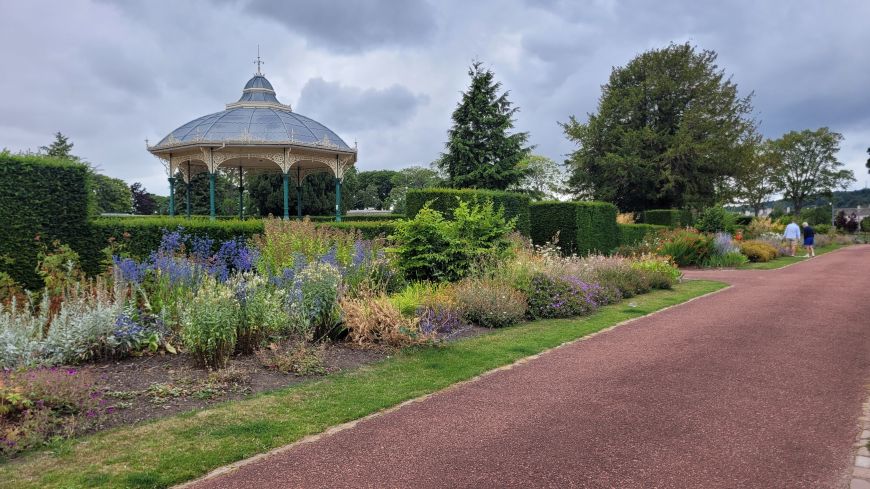 Public park run by the City of Edinburgh Council. The earliest record of parkland and gardens in the Saughton area is the Saughtonhall Mansion estate in 1128.
The park has been managed by City Of Edinburgh Council since 1900 when it was purchased from Sir William Baird and it opened to the public in 1910.
It has served over the years as "horticultural therapy" for patients of the Saughtonhall lunatic asylum, site of the Scottish National exhibition in 1908, and Victory garden providing onions for the World War 2 "Dig for Victory" campaign.
In 2017-2018, Saughton Park benefitted from an £8 million restoration project, which included restoring the Rose Garden, renovation of the winter gardens glasshouse, and restoring the cast pre-1900, iron bandstand to its original splendour.
There's also a Physic Garden, and 3 types of orchard (trained, border and wild).
You can also find Saughton skatepark here, one of Scotland's largest skate parks, for BMXers and skateboarders. 
The Friends of Saughton Garden work actively on maintenance of and improvements to the park.
Unique heritage bandstand
The park hosts outdoor music events from time to time.
The cast iron bandstand is the original used over a hundred years ago for concerts in the garden. The stand was put into storage in 1987​ due to its poor condition. In 2016, as part of the restoration of the park the bandstand was retrieved from storage and was repaired by a Scottish foundry Charles Laing and Son.
Work was completed in late 2018, making Saughton the only place in Edinburgh with a cast iron bandstand and one of only five of that particular heritage model that is in the world. 
The band stand is situated within the walled garden.