Image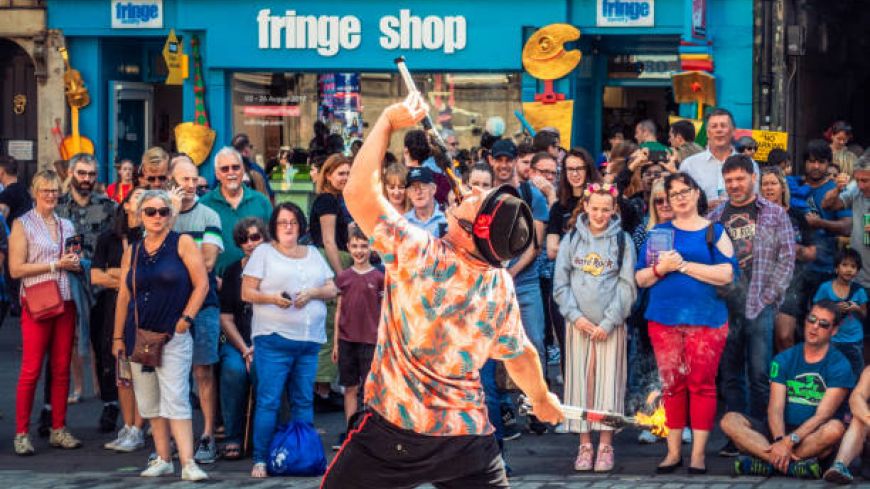 Over 790 shows now available to browse online, with more to be announced monthly in the lead up to the Fringe's 75th anniversary this August.
Today Edinburgh Festival Fringe Society announced that tickets for a further 513 Edinburgh Festival Fringe shows are now available to browse and book at edfringe.com.
This is the second set of tickets to be released for 2022, with the first 283 shows revealed in March. The official programme launch will take place on Thursday 07 July.
The 75th anniversary of the Fringe takes place from 05 – 29 August 2022 and will feature a range of shows, with theatre, comedy, music, dance, circus, musicals, variety, cabaret, events and more all featured in the programme so far.
Below is a small representative sample of shows available to book from today. The full list of shows released so far can be found at edfringe.com.
Theatre
At Pleasance, Today I Killed My Very First Bird follows a South-East London gangster who starts to lose his grip on reality when he's forced to look back on his traumatic childhood. Theatre Royal Plymouth co-produce this "unflinching new play based on lived experience".
In a world first, Irvine Welsh's Porno has been adapted for the stage. 15 years after Trainspotting, what has become of Renton, Sickboy, Spud and Begbie?
Fills Monkey: We Will Drum You "blends pure joy and comedy with extraordinary musicianship, as two drummers fuse musical styles from rock to heavy metal, and Latin to jazz".
And in Charlie Russell Aims to Please, Charlie wants to do a show in Edinburgh, and so attempts to "please absolutely everyone by trying to hit as many solo Fringe show tropes and styles as possible within an hour".
At Gilded Balloon, Swallowed follows a young couple who are separated by an outbreak they cannot speak of. "Desire to connect meets fear of touch". From emerging Scottish company, Frizz Theatre.
Eve: All About Her sees award-winning actor and cabaret artist Keith Ramsay "fuse spoken word and live music to deconstruct the concept of camp and queer mythology for a post-Stonewall generation".
After a run in 2021, 1902 returns to Leith Arches. The multi award-winning work from Saltire Sky "takes an access-all-areas approach to working-class life in Scotland as we follow four young wannabe football hooligans in their quest to see Hibs win the Scottish Cup Final".
At theSpaceUK, Beneath is "a dark and absurd commentary on the effects of climate change". Four people are trapped under 100 metres of water after an environmental catastrophe. After months of just surviving, each character is forced to examine what their options are and what their futures hold.
And Hiya Dolly! is "the true story of how a cute, attention-seeking lamb became the most famous sheep in history – the world's first cloned mammal."
Les Dawson: Flying High is at Assembly. Jon Culshaw stars in in this new play from BAFTA and Olivier Award-winning writer Tim Whitnall and director Bob Golding. "Join Les as he summons forth a wealth of characters and incidents from his eventful life and career."
Marrow follows a queer artist, who when "forced within the confines of his fabulous mind, takes a euphoric journey to heal".
She Wolf is a winner of the 2022 Assembly ART Award and the Alpine Fellowship Theatre Prize. It's a fierce, ferocious monologue "about getting f*cked over and fighting your way back". Spoken by a woman hiding out at the zoo, this show "tears open questions of gender and class in a capitalist world".
Sandcastles by Steve McMahon "depicts the tumultuous lifelong friendship of millennials Hannah and Beth". An Assembly ART Award-winning piece from Brite Theater.
Destiny is at Underbelly. "Destiny dreams big... If J-Lo can make it out of the Bronx, then Destiny can make it off the Hill Rise estate." A recipient of the Pleasance 2021 National Partnerships Award with Bristol Old Vic Ferment, this work follows a teenage girl growing up on a Chippenham council estate.
The Sian Clarke Experience is "an ode to every man who has belittled her, made her feel unsafe, objectified her, told her she can't be funny, called her a slut, told her to smile more… a dark, twisted comedic piece full of aggression and discomfort, examining the constraints of a woman biting back."
Lightweight is "the true story of a complicated young woman's attempts to survive anorexia and maintain a debilitatingly positive attitude in post-9/11 New York City". Winner of Best Festival Debut at United Solo Festival 2021, New York City.
The B Collective returns with their high-octane show, Murder Ballads, adapted from the album by Nick Cave and the Bad Seeds. "Explosive gig-theatre meets dark comedy cabaret as four actor-musicians invite you to O'Malley's Bar in the town of Millhaven, 1882, in the wildest part of the old Wild West".
At Greenside, Almost 13 is a solo drama about a young girl "surviving a hot, violent summer in Brooklyn". Can she endure being caught between a disintegrating working-class family at home and racial violence on the streets? Award-winning theatre artist Joan Kane plays all 10 colourful Brooklynites.
And the one-woman show Caitlin is based on Dylan Thomas's wife Caitlin Macnamara, as she tells the story of her "unfulfilled ambitions", and her "booze-fuelled, infidelity-riddled marriage to poet".
Comedy
The Stand is home to Omid Djalili. "After experimental Zoom gigs where he got muted by 639 people... the multi award-winning comedian and actor is now where he belongs, on a stage."
Paul Sinha is back on tour and appearing at the Fringe. Audiences can "expect jokes and surprises" from the quizzer, comedian and broadcaster.
Meanwhile, Flat and the Curves sees "hilarious divas perform original songs exploring sex, scandal and sisterhood".
Frankie Boyle is at Assembly with "a show largely about politics, satirising whichever new leaders emerge from the irradiated rubble."
For Nish Kumar, who returns with a new show, "it has been a period of upheaval and uncertainty with COVID and the political situation." He promises we'll be "amazed by his capacity to somehow take all these things personally."
Julia Masil is appearing with "a debut solo comedy hour from the legs behind the sell-out hit show Legs. In this absurd homage to migration, a hungry clown from an Eastern European village voyages to America for a hot dog."
And after his last Fringe appearance, Rich Hall "had to step away from Edinburgh and consider how to be less devastatingly funny." In this return, he promises "to dial it back just a little".
At Gilded Balloon, Best Newcomer nominee Maisie Adam has a brand-new show for 2022, Buzzed, "rammed with witty observations, high-octane energy and some right good jokes."
Comedy magician Pete Firman returns to the Fringe with a new show. "Expect Pete's trademark blend of laugh-out-loud comedy and jaw-dropping magic".
And legendary fox Basil Brush has a brand-new show for the adults, following his sold-out 2019 Fringe debut. "The national treasure will bring more anarchy to the festival, featuring different guests daily."
At Pleasance, Mind Mangler: Member of the Tragic Circle is "a new solo spectacular predicted to spiral into chaos as Mind Mangler attempts to read your mind."
And in Mischief Movie Night, audiences are promised "an improvised movie live on stage". Every show is different.
Daniel Sloss is at Just the Tonic and is doing a run of shows to work up some new material for his next tour.
Tom Stade is "trying to remember what was important before responsibility and fear got in the way" in his show.
Underbelly is home to Paul Foot, in which "Paul opens his beak and explores topics including Nanna on the rack, murdering Santas and interfering ambulance drivers."
Jason Byrne recently lost his father, Paddy Byrne. In this one-man play, Jason brings his dad's life to the stage, "keeping him alive in stories full of laughter and tears".
In A Problem Shared, Myra DuBois "steps away from the songs and dedicates her attention to the dying art of conversation".
Drunk Women Solving Crime returns to the Fringe. "This is a true crime podcast with a twist... of lime. Each episode sees the boozed-up panel of writer / comedian hosts Hannah George, Catie Wilkins and Taylor Glenn welcome a top guest to test out their drunk detective skills and solve true crime cases."
The Scottish Comedy Festival has a host of Scottish stand-up, including five-time Scottish Comedian of the Year finalist Ross Leslie and a set from Gary Little on "life, relationships, the world!"
Laughing Horse is home to Nathan Cassidy, who presents "stand-up comedy on the death of the planet, the neglect of our leaders and the shield of blame from ourselves."
PBH's Free Fringe features Palindrome Fight!, which comprises five panelists, three audience suggestions, and thirty minutes of lurid palindrome history and standup comedy.
Music
Catch The Tiger Lillies at Underbelly. After years away touring the world, the "Olivier Award-winning godfathers of alternative cabaret celebrate their 30th anniversary with a triumphant return to the Fringe".
Scottish/Danish folk duo The Quiggs are back at Acoustic Music Centre for an hour of folksong and fine singing.
Dougie Mackenzie and Brian Miller are performing together. Dougie is a traditional singer, drawn to Scots ballad language. Brian is a Scottish singer and guitarist.
Massaoke is back at Assembly. Join the house band, Rockstar Weekend, on "a euphoric, spandex-clad journey through the greatest smash hits of all time, accompanied by giant video lyrics and the whole crowd singing together".
At Pleasance, Shona the Musical Choir is an African/Scottish group presenting original songs from African composer/playwright Neo Vilakazi. "Inspired by historical events around the Shona tribe in Africa and [the] socio-political turmoil of Robert Mugabe's rule of Zimbabwe."
Cabaret and Variety
Fascinating Aida are at Assembly. Their latest show is "jam-packed with hilarious songs (old and new), outrageous humour and an elegant charm that belies the biting satire and their potty mouths."
In Soulful Magic, Britain's Got Talent finalist Magical Bones returns to the Fringe, with a "brand-new hour of the most awe-inspiring and high-energy magic you'll see this year."
Following its sold-out 2019 Fringe premiere, the award-winning An Evening Without Kate Bush returns. Sarah-Louise Young and Russell Lucas "pay glorious homage to the music, fans and mythology of one of the most influential voices in music".
La Clique are returning to the Fringe, with shows at Underbelly. A decade on from winning the Best Entertainment Olivier Award, this show "promises to be a night of laughs, gasps, naughtiness and the best in international cabaret".
In More Jewish Chronicles (and Other Musical Stories), multi award-winning musical storyteller Daniel Cainer performs another collection of story-songs, following six off-Broadway runs and 15 Edinburgh Fringes.
PBH's Free Fringe is home to Caspar Thomas: Sleight of Handkerchief. Having had plenty of time to practice, Caspar returns to the Fringe with a brand-new magic show.
Plus, Ash Pryce's latest show features paranormal illusions, spooky magic and ghostly goings in the underground vaults of Edinburgh.
Dance, Physical Theatre and Circus
Railed is at Assembly. From the creators of Elixir (winner of Best Circus and Physical Theatre award at Adelaide Fringe 2018), "Railed is a western-themed circus spectacular, combining trademark physical talents, finely chiselled bodies and hilarious comic timing."
International theatre-makers Same Same Collective are bringing drop dead gorgeous, which "combines movement, clowning and a whole lot of fruit." Expect "intersectional, irreverent theatre, loosely based on Yukio Mishima's Book of Anti-Chaste Wisdom".
Circus Abyssinia: Tulu is at Underbelly Circus Hub. "Celebrating the first African woman to win Olympic gold, this showcase is inspired by the true tale of an Ethiopian icon, Derartu Tulu". It promises "awe-inspiring acrobatics and mesmerising fire juggling with a rocking, exuberant soundtrack."
At theSpaceUK, SMACK & Spektakel offers "an adventurous double bill of dance, refreshing the commentary on the empowered female body, while questioning the relationship between performance and identity".
Children's shows
At Pleasance, catch Shlomo's Beatbox Adventure for Kids. World record-breaking beatboxer SK Shlomo has performed around the world with the likes of Bjork, Ed Sheeran and Rudimental. Here, Shlomo is "back on his mission to empower the next generation of superstar beatboxers to find their true voice, no matter who they are".
Clowntown In Space @theSpace is at theSpaceUK. Canada's award-winning clown band sparks the imagination in this space-themed show. "Full of live music, catchy singalongs, fun adventures and interactive comedy".
Prehysterical is at Assembly. "A hilarious circus show for children and parents of all ages, following three foolish Neanderthals as they struggle to survive the harsh natural world."
Meanwhile, Brotipo is "crazy Canadian circus for the young, premiering in Edinburgh after visiting 16 countries". Watch as "two clowns touch the hearts of the audience and make them laugh through their quarrels, their acrobatics and their lonely moments."
At Gilded Balloon, catch The Dark Room For Kids. You and your family are stuck inside a live-action video game! How will you escape? "An interactive adventure featuring terrible prizes and total mayhem."
Fruit Flies Like a Banana: Kids! sees "music, theatre, dance and circus collide in this variety show where you choose the show order".
In There's Nothing Quite Like Spaghetti Bolognese!, join Penny "for an unforgettable dinner in this show that is fun for all the family. A piping-hot piece of brand-new children's theatre that asks the question: Should you play with your food?"
Musicals
At theSpaceUK, Flesh is a "fast, furious and funny rock musical that takes a wry take on the story of Burke and Hare – Irish navvies induced by the Edinburgh medical elite to turn their hands to murdering for profit."
And in About New Year's Eve, "minutes before the clock strikes 12, a group of friends rediscover themselves and their goals for the new year." This show "offers audiences a joyful and dramatic exploration of life through the eyes of young adults."
www.edfringe.com