Image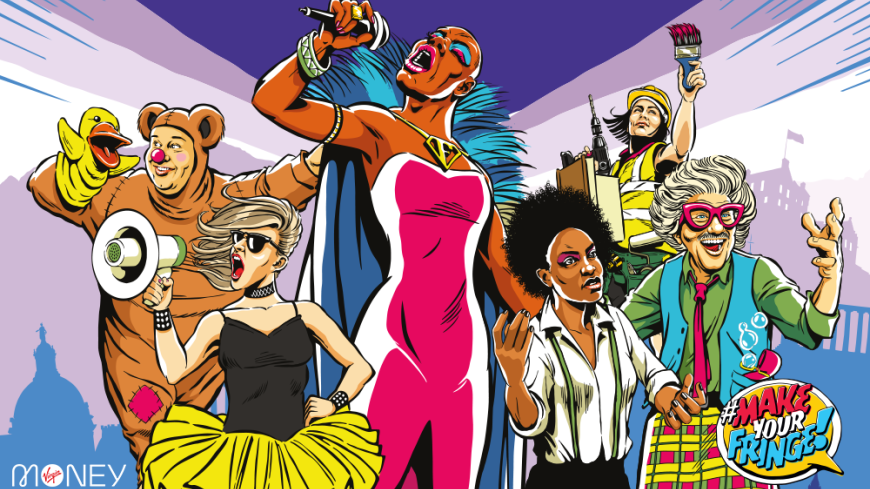 The show will go on...line! Following the announcement that the Edinburgh Festival Fringe will not be going ahead as planned in 2020, the Fringe Society has unveiled alternative digital plans scheduled to take place this summer, complementing a variety of activities planned by Fringe artists and venues.  
Under hugely difficult circumstances, creatives from across the Fringe landscape will be bringing versions of their work to life digitally, many for the very first time. From live streamed performances to nostalgic throwbacks and community-focused events and support sessions, the spirit of the Fringe will live on in the work of thousands of Fringe artists and venues, and the Fringe Society will help audiences navigate them through a central listings service on edfringe.com.
Alongside this, the Fringe Society will be running a series of digital activities, including virtual shows, a festival-wide crowdfunding campaign, artist-facing workshops, a new online arts industry platform and a virtual Fringe Central, so there are still plenty of ways to #MakeYourFringe in 2020.
The Society has also unveiled the artwork for the Fringe Programme cover that never was. Designed by celebrated contemporary artist Butcher Billy, the campaign is based on the theme of 'the Heroes of the Fringe'. A limited-edition range of Fringe merchandise featuring the theme is available now, from enamel pins to a first-ever Fringe jigsaw.
Commenting on the launch of this year's digital Fringe activity, Shona McCarthy, Edinburgh Festival Fringe Society Chief Executive, said: "It's hard to imagine a summer without the Fringe. The explosion of creativity and community that the festival brings every year is unparalleled, and whilst we may not be able to provide a stage in Edinburgh in quite the same way this year, it feels hugely important that the spirit of this brilliant festival is kept alive.
"Little did we know way back in autumn, when we first started talking about this year's programme artwork, how prescient the superhero theme would be today. We're happy to be able to shine a spotlight on some of our Fringe heroes now, as we rally round to support the people that make your Fringe. On the other side of this, we'll need them more than ever.
"The impact of Covid-19 has been devastating for the countless artists, audiences, venues, workers and small businesses that make this festival happen every year. The FringeMakers crowdfunding campaign is designed to support them, while the Fringe on a Friday live show and the Fringe Pick n Mix website aim to bring some much-needed joy to our devoted audiences both here in Scotland and all over the world."
Professor Sir Tim O'Shea, Edinburgh Festival Fringe Society Chair, added: "It's been an extraordinarily difficult year and we still have real work to do to secure the future of the wider Fringe ecosystem. The partnership with Crowdfunder is an important step towards helping venues and artists raise vital funds that we know are needed to keep the Fringe alive.
"At its core the Fringe Society exists to support artists and we're pleased to be able to offer so many different opportunities for arts professionals during this difficult time, from our online artist development programme, Fringe Central, to our dedicated Fringe Marketplace arts industry platform.
"We're incredibly grateful to all the partners, funders and supporters who have helped us to deliver this. Their support is invaluable during what has been a difficult time for the Fringe and the wider arts sector."
Helen Page, Group Brand and Marketing Director at Virgin Money, said: "We're proud to support the Edinburgh Festival Fringe Society at what is an incredibly difficult time for the creative industries. Creating this brand-new digital Fringe is innovative and enables the community to come together at a time when social connections are needed more than ever. We look forward to joining the virtual shows and recreating the Fringe spirit at home this year."
A spokesperson for Johnnie Walker said: "The Edinburgh Festival Fringe is such a vital part of the life and culture of the city for residents and visitors alike, and we are pleased to make our contribution along with other partners to keeping the spirit of the Edinburgh Festival Fringe alive during these challenging times.
"We will miss the incredible excitement, colour and vibrancy the Fringe brings to Edinburgh this summer, but it is wonderful to see the creativity and innovation of the virtual programme. We wish our friends at the Fringe the very best."
Support for Fringe artists and venues: FringeMakers Crowdfunder campaign launches
Created jointly by the Fringe Societyand Crowdfunder and launching today Monday 13 July, Fringemakers, a new crowdfunding platform,will support Fringe artists and venues to raise vital funds in the absence of a Fringe this year. 
The artistic and creative industries have been among the hardest hit by the economic downturn following the coronavirus outbreak, with the Fringe landscape alone facing estimated losses of over £21 million. One of the Fringe Society's core objectives is to support Fringe participants, including artists and venues, and they've been exploring different ways to ensure they can return to the Fringe in 2021 on stable footing.
Through the FringeMakers platform, venues and artists will be able to register as part of a central Fringe campaign, paying no fees and keeping 100% of funds donated for their own cause. Participants can offer rewards for donation, such as access to their own livestreamed shows, custom merchandise, exclusive content and much more.
Crowdfunder have generously waived all fees for this project, and are providing participants with tailored support, including dedicated webinars, one-to-one training for Fringe artists and venues, and how to guides, to enable them to raise as much money as possible during the month of August.
Simon Walker, Head of Projects at Crowdfunder said: "Crowdfunder are delighted to partner with the Edinburgh Festival Fringe Society in powering the FringeMakers crowdfunding platform. COVID-19 has dealt a particular challenge to the arts industry and we're proud to be able to offer support to all the venues and performers with completely fee free fundraising on the platform."
Fringe on a Friday variety show to stream as part of FringeMakers campaign
As part of the FringeMakers campaign, every registered venue and artist will have the opportunity to raise money for their project by selling tickets to a weekly livestreamed variety show – Fringe on a Friday.
Fringe on a Friday is a 60-minute Fringe variety show, produced and curated by an independent production company, which will be streamed every Friday evening during the Fringe (07, 14, 21 and 28 August). This will showcase the best of the festival across a range of genres, including comedy, music, dance and cabaret. Venues and acts will all be given the opportunity to sell tickets to the broadcast and will keep 100% of the money they raise from these sales.
Fringe Pick n Mix – the show must go on
The Fringe – usually staged across a whole city – will instead be staged in living rooms across the world this August as we invite artists and audiences to capture the spirit of the Fringe in miniature. Repurposing technology from last year's Inspiration Machine, artists can upload 60-second films of themselves in action – from snippets of what would have been 2020 shows to snappy set pieces staged in the shed – just like the Fringe, anything goes, and anyone can take part.
From miniature versions of actual Fringe shows to family members flyering each other in the hallway and a pop-up Spiegel tent (the cheap canvas variety!) in the back garden, this will be playful, irreverent and very Fringey.
Other plans include a Virtual Fringe Central, offering 30 free digital events including panel discussions, workshops and networking sessions, the Fringe Marketplace, a dedicated showcase platform to connect arts industry delegates  tour-ready artists who were programmed for Fringe 2020 and Edinburgh Unlocked, a Penguin Random House release of an exclusive comedy festival in audiobook format featuring well-known Fringe comedians, including Lou Sanders, Ivo Graham and Dane Baptiste.