Image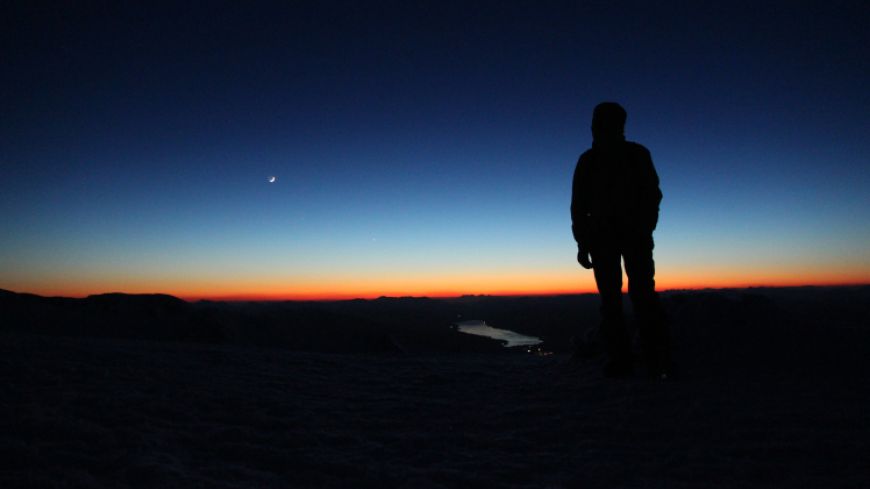 Edinburgh Mountain Film Festival is Edinburgh's longest running adventure film festival, returning this year after a two year hiatus to the George Aitman Lecture Theatre on Saturday 15th and Sunday 16th February.  We sat down with Festival director Stevie Christie to talk about what the festival had to offer.
What sets EMFF apart is the variety of what's being shown. For fans of extreme, tension-ridden feats of bravery there's a bike versus parkour race through Paris, shown in the Saturday Night Extreme Session. There's a treasure trove of skiing, mountain-biking, and inspiration for the younger audiences in the family friendly, accessible Sunday morning film-only session. And for those who want to hear personal journeys directly from the people who travelled them, there are three guest speakers telling their hardship and experience. Everything featured has, at its heart, a good story.
"I think the word that I would pick up on there is definitely 'stories'. If you jump back even ten years, what you'd expect to see at Mountain Film Festivals was probably extreme action, climbing something impossible, but there wasn't much story behind it," Stevie says. The one thing certainly not lacking from the programme this year is heart – For The Love of Mary looks at 97-year-old George Etzweiler still wearing the running gear bought by his wife 50 years prior, and Sunday afternoon sees an live appearance with Anna McNuff, who ran all 2,620 miles from Shetland to London – barefoot. Stevie pointed out that along her journey she stopped by the communities of Girl Guides to inspire those she crossed paths with.
As Stevie says, the focus for the films is "very much about the people", set against awe-inspiring backdrops and vistas.  The extreme sports and feats of athleticism are all the more compelling if the audience feel attached to whoever is doing them. Saturday afternoon's Climbing Blind shows the game-changing Jesse Dufton, who has 2% light perception, as he becomes the first blind climber to lead an ascent up the Old Man of Hoy in Orkney. It's these personal, seemingly insurmountable challenges that make adventure films such gripping viewing.
That's not to say that what we're seeing onscreen isn't already jaw-dropping.  When talking about guest speaker Leon McCarron, who walked 1,000 miles through the Holy Land to collect stories and memories of the people he met along the way, Stevie talks of his ability to "go to the places that I find really interesting but a little bit scary." The Festival's trailer is packed with tense shots of impossible cliff faces or giant leaps, climbers hanging unsupported from great heights – but what's so impressive is, as Stevie says when speaking about rock-climber Dave McLeod, "he's so in control of himself that he never really considers himself to be in danger". We're getting to see people at the top of their game, attempting things with amazing skill and confidence. The High Road sees American solo climber Nina Williams attempting bouldering routes 60-70 feet high in the desert – "if she comes off, it's not going to be a happy ending". We can't pretend we're not gripped by these feats, and when they overcome incredible physical obstacles, audiences are moved, thrilled, and completely bowled over. There is a fun mix of "do not try this at home" and the undeniable draw of "I fancy something like that."
When Stevie was invited to world-famous Banff Mountain Film Festival in Canada, he was seized by a desire to bring something like this home to Edinburgh. With a number of films featuring the beautiful landscapes of Scotland, he hopes that audiences seeing someone they recognise inspires them to go seek some "home-grown action". Now with children of his own and 15 successful editions of EMFF under his belt, he's trying to spark a little bit of imagination in audiences, and the range of people featured in the programme shows that whatever age, whatever ability, and for whatever reason – there's nothing like venturing out into the great outdoors.
Edinburgh Mountain Film Festival is held at George Aikman Lecture Theatre, Saturday 15th – Sunday 16th February. Tickets from £5 - £17. Visit https://emff.co.uk/ for more information and tickets.