Image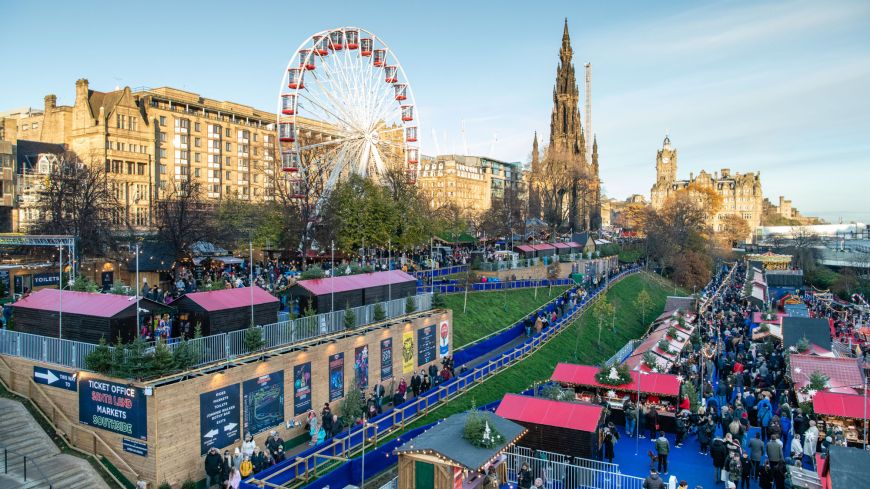 A re-designed and enlarged Christmas Market in Edinburgh's East Princes Street Gardens helped generate a "significant" increase in footfall on last year's Edinburgh's Christmas festival, according to organiser Underbelly.
Underbelly said a total of 2,631,154 people visited the market in 2019, a 4.85% increase in footfall from 2018. 
The Christmas Market was a source of heated debate during the festive period, over safety concerns, lack of planning permission, the Disneyfication of the historic park, and a general concern about the creeping commercialisation of public space. 
This was Underbelly's seventh year producing Edinburgh's Christmas on behalf of City of Edinburgh Council, and it was by far the most rancorous in terms of relations with Edinburgh residents.
Yet Underbelly maintains that the redesigned and enlarged market, which spread across both sides of the railway tracks in Princes Street Gardens, was not only able to easily accommodate an increased number of visitors but also protect the Gardens and improve its accessibility.
Charlie Wood and Ed Bartlam, Directors of Underbelly and Edinburgh's Christmas said: "Once again people voted with their feet and more visitors and significantly more locals than ever before came to enjoy the event in East Princes Street Gardens.  This is a testament to the enduring, award-winning appeal of Edinburgh's Christmas and its world-class offer."
Edinburgh residents snapped up 196,656 tickets in 2019 compared to 186,799 in 2018.
A total of 648,397 tickets were sold to the various Edinburgh's Christmas events.
The two Underbelly producers added: "We acknowledge some of the concerns voiced around the event and we look forward to working closely with the City of Edinburgh Council, Edinburgh residents and other stakeholders to review the event and to look at where and how we can make improvements; and also to contributing to the public consultation on the future of Edinburgh's winter festivals from 2022." 
They continued: "We are proud of the fact that our production of both Edinburgh's Christmas and Edinburgh's Hogmanay has saved the local taxpayer £1 million a year compared to the previous contract and projects to save over £5 million over its five-year lifetime."
The Christmas market ran for the duration of Edinburgh's Christmas festival - Saturday 16 November to this past Saturday (4 January). 
The de-rig of the Christmas Market site is currently underway and is scheduled to complete on 20 January. 
Underbelly is contracted to meet the costs of reinstatement within East Princes Street Gardens and the events company has been in discussions with the City of Edinburgh Council about how to re-turf the Gardens as quickly as possible following the end of the de-rig period.
Festive Cheer
A centrepoint of the past festival was Santa riding aloft the Royal Mile in a sleigh hung from cables at Edinburgh's Christmas Light Night.
This was the first year for the Community Christmas, a free, family series of 12 concerts around Edinburgh. The concerts reached an estimated audience of 3,000.  
The 40 winning Winter Windows designs by local school children, themed around 'A Festive Welcome', were also showcased in Edinburgh's streets.
Sidestepping the often fierce debate around the Christmas Market, The Lord Provost, Frank Ross, said:
"Edinburgh's Christmas is enjoyed by tens of thousands of residents and visitors every year, and this year the event proved to be more inclusive than ever with community events taking place across the City."
Ross praised the success of the various charitable events and initiatives. 
Edinburgh's Christmas gave away 17,559 free tickets to charities, such as the Trussell Trust's food banks and Edinburgh's OneCity Trust. 
The total tickets given away in 2018 was 27,360. Using what sounds a little like a statistical stretch, Underbelly announced that if excluding Silent Light, ice skating in St Andrew Square and shows in Festival Square Spiegeltent, events which didn't recur in 2019, there was a 173% increase in tickets given out.
The Christmas festival also raised over £10,000 in support of Edinburgh and Scotland-wide charities, including 25p from every ticket sold for the Christmas Tree Maze, which went to support Edinburgh and the Lothians Greenspace Trust's Tree Time, an initiative enabling and encouraging people to donate towards the replacement of street trees. 
The £9,104 raised will go towards planting new trees in Edinburgh.
OneCity Trust, Edinburgh's Christmas' official partner charity, is an Edinburgh-focused trust led by the city's Lord Provost, Frank Ross; the Trust works towards fighting exclusion and inequality in Edinburgh. 
Through voluntary donations over £1,000 was raised for the Trust as well as 5,000 tickets donated to allocate to the numerous groups the Trust supports.  
Through bucket-shaking and carolling at Edinburgh's Christmas, various charities and community groups such as Thistle Foundation, Preston Street Primary and Scottish Association on Mental Health raised £1,297 in support of their work.
Lord Provost Frank Ross added: "We look forward to working with Underbelly, residents and stakeholders to review this year's event and conducting our wider conversation with the City to help shape our Winter Festival offer from 2022."