Image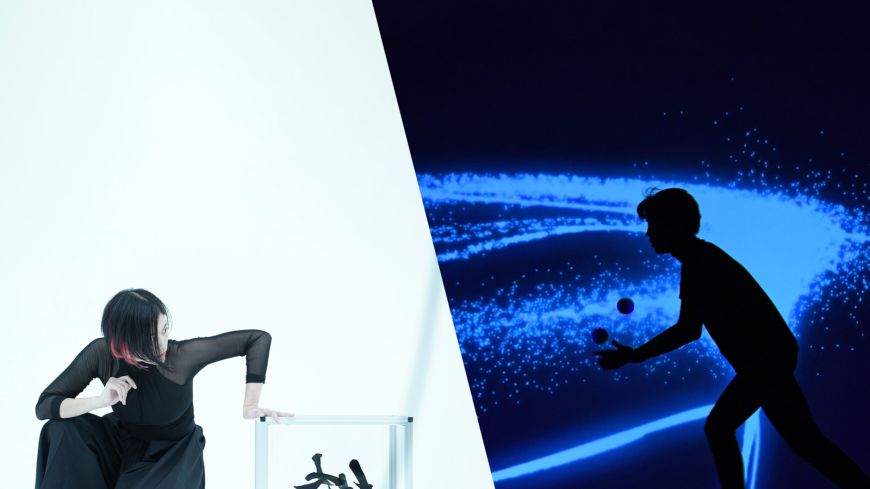 Company
I/O Multimedia Performance Company (Japan)
Production
Chiharu Kuronuma (Director) Hiroki Nuhara (Camera) Takamasa Yamaha (Lighting / Sound Operator) Kenji Matsumae (Assistant Director)
Performers
Chiharu Kuronuma (Dancer) Teruki Okamoto (Juggler)
This show consists of two individual performers presenting two different dances and they are both a treat to watch. Shot on the same blank stage and with virtually the same lighting set up, the two performances create different and yet still sympathetic pieces of work.
Tranquilliser
Teruki Okamoto's dance/juggling explores the creation of movement in the digital world and what he describes as the 'movement of energy'. It's a fascinating exploration of the elements and factors which must be quantified and understood in order to visualise the simple process of a ball bouncing. Okamoto is a juggler of some skill and his interaction with a projected animation of programming and digitally created juggling balls creates a visually appealing and quite unique performance.
The stage is empty with the exemption of a desk and laptop and then across the stage and backdrop a projector fills this tiny universe with fascinating graphical analysis and digital animations. A wonderfully 'clean' soundtrack accompanies short dialogue pieces and the whole thing nits together beautifully.
The computer generated interactions with the juggling balls creates a strong visual impact and the poetry of the movement and the 2D generated imagery is quite absorbing especially the videos and re-projected images of the dancer, there is a small time delay and this creates an echoing form on the stage - it's very effective.
In/visible
Chiharu Kuronuma explores the swirling, turning almost mystical form of calligraphy. The same empty stage as before only now populated by a large frame in the shape of a cube lighted in a faint dark blue light. Again using the projector calligraphic brush strokes and marks are thrown into the rear wall and Kuronuma reacts and melds with the shapes and forms.
This form of digital interaction can often fail but Kuronuma makes it work, her gentle moving form and graceful sweeping gestures are a perfect juxtaposition to the projected brushwork. And the combination of these two elements make for a sometimes mesmerising combination.
Another great soundtrack accompanies this piece but a section in the middle of this performance is completely silent and the music only returns later. The final stages of this dance involve a further development and merging of the physical with the pictorial and it creates a rather wonderful crescendo to the whole piece.
Delivered Online
Available anytime.
Suitability: 8+
Tickets: £ Pay What You Can