Image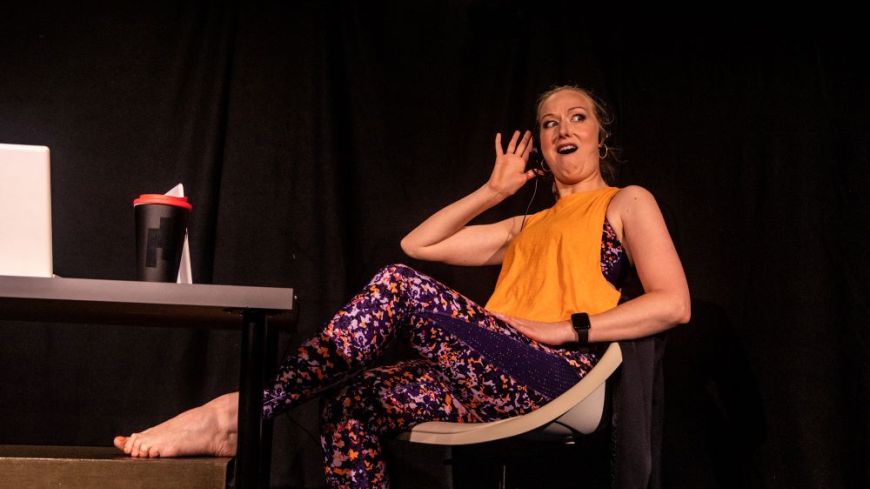 Production
Scott Eyerly (composer & librettist), Oliver Platt (director), Lana Bode (musical director)
Performers
Sarah Minns (Kay), Lana Bode (pianist)
The dividing line between Musical Theatre and Opera has been gradually breaking down over the decades to create a creative, crossover genre - Candide, West Side Story, Carousel, Sweeney Todd, Rent (based on La Boheme) and Les Miserables. Conversely, Carmen and The Magic Flute have spoken dialogue akin to musical drama.  The vocal range differs between opera and a musical although scores by such composers as Kurt Weill and Sondheim are classically-based and require voices of operatic proportion and quality. 
Composer/librettist Scott Eyerly has created work for Broadway as well as the Carnegie Hall and teaches both opera and musical theatre at the Juilliard School, New York City.  Sarah Minns specialises in operatic performance, praised for classical singing with a dramatic vocal range. 
Sarah plays Kay who bounces on stage in orange vest and lyrca leggings, clutching a yoga mat having just completed a cardio workout. But she's not just back from the gym and keeps fit in her apartment. This is because she has not left home for a year.  Cast your mind back to Spring 2020 when the world began to close down, flights cancelled, bars, restaurants, shops and theatres closed. Office staff were forced to adjust and work from home, setting up their PC at the kitchen table or corner of the bedroom. 
Kay is all set up with two laptops, mobile phone and tablet for her role as a Customer Care advisor, as well as ordering groceries and buying bargain jewellery.  Time for WFH (working from home), 'Rise & Shine,  .. the life of Riley, life online,' she sings in joyful mood: ' How can I help you today?' she asks a flurry of frazzled customers with complaints and queries, then switches screens to ensure a bid for a bracelet on Ebay.  She describes her previous career as a lawyer advising on green cards and immigration, and a disastrous love affair (the stuff of opera indeed).  Kay is someone with an innate love of helping people and the more she becomes in involved in their problems, perhaps she can be persuaded to step outside her front door.
The platform stage is crammed: Lana Bode at the keyboard, table, chair, computers, cables, papers, boxes of memorabilia - and not forgetting her pet dog.   There's no room to swing either a dog or a cat, and with so much frantic rushing between laptop and phone, it becomes extremely awkward.  However, this does illustrate the claustrophobic nature of her enclosed lifestyle. 
The libretto of this through-sung opera is often amusing with clever rhymes and witty phrases.  For those who are more familiar with the smooth melodies of Musical Theatre, her high pitched, soprano tone is at first difficult to attune the ears.  Sarah Minns is an accomplished actress, making an array of facial expressions during her series of one-sided online or Skype conversations.  (Her small white earbuds are occasionally removed and replaced or they fall out - most distracting and not clear if they are necessary for singing or just a theatrical accessory). 
The topical reflects the fact that many office workers prefer the freedom and flexibility of WFH – the very term meaning to work remotely as in isolated and alone. My Life Online is not, however, a depressing drama, but a light-hearted comedy looking at the way the post-pandemic world of work and leisure may still be combined and confined within the domestic space and four walls of our home. 
Showtimes: 
14 – 26 August @ 15:00
Ticket prices: £11 (£9) 
Age guidance: 12 +
https://tickets.edfringe.com/whats-on/my-life-online