Image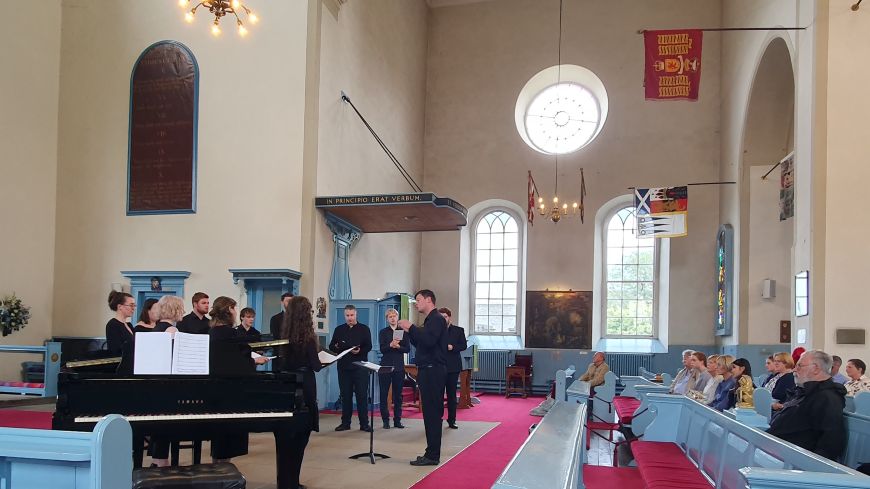 Company
Edinburgh Festival of the Sacred Arts
Production
And I saw a new heaven (Carlo Massimo); Anthem to St Andrew & The Lord is near (Alexander McNamee); If ye love me (Thomas Tallis); O soul mender (Viktor Seifert); How still and peaceful (Lucy Whitehead); Missa lucerna oleum (Calum Robertson); Oh, that I had wings like a dove (Carlo Massimo); Jesus Christ the apple tree (Elizabeth Poston); Sanctus (Alexander McNamee)
Performers
Calum Robertson (director/composer); Sally Carr & Anna Kaye (sopranos); Anna Yule & Holly Gowen (altos); Rhys Williams & Fraser Macdonald (tenors); Dale McIntyre & Joshua McCullough (basses)
This was one of those rare moments at the Fringe where you felt you had really witnessed something special.
Whereas we are used to hearing performances of the old masters and classics, the principal pieces in this programme were entirely new – and all written by young composers. For both the quality of the recital, and the underlying concept, this was truly outstanding.
Our afternoon burst into life with the first work's fortissimo crunchy organ chords, and the exquisite singing that followed. Every tool in the armoury was being used here.
The Revd Professor Gordon Graham then opened the afternoon, introducing the Director, Calum Robertson, as one of the 'oldest' composers present – although, as we were shortly to discover, that wasn't quite true, with an interspersed work from Tallis!
The newly written works of the younger composers showcased some wonderful talent. McNamee's 'Anthem to St Andrew' beautifully recalled the biblical text in song, and Seifert's 'O soul mender', was an amazing rich blend of piano accompaniment, choral music but also some spoken word too; Whitehead's 'Howe still and peaceful' contained some glorious harmonies.
When some of the composers were brought forward, it was surprising to see how young they were – but, to us in the audience, this only made their achievements seem even the more impressive.
Robertson himself told us that his Mass setting 'Missa Lucerna Oleum' was written during Covid (when restrictions only allowed one singer in churches) and so there was more time allowed for artistic endeavour. We heard four of the pieces from this work – of particular note was the rather bright Kyrie, in an upbeat setting overall.
Massimo's 'O, that I had wings' was based on classical cathedral antiphons, though here reduced for 8 singers. It still retained its power. And with the composers themselves augmenting the Choir for 'Jesus Christ the Apple tree', we were poised for McNamee's piece, which concluded the recital: his rousing setting of the 'Sanctus'.
We even had copies of the scores of the compositions available after – to encourage these newly written pieces to be enjoyed ever onward. Pulling this ground-breaking initiative together so well was surely an astonishing achievement.
The performance finished at 2.10pm.
Composing Sacred Music – A New Generation, Wednesday 16th August, Canongate Kirk, 1.15pm