Image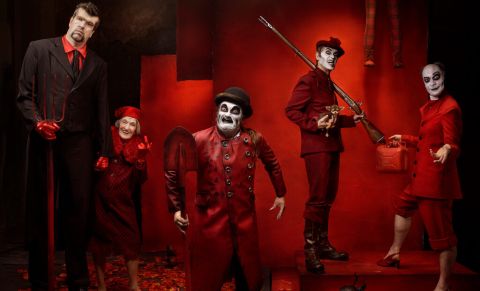 Company
The Tiger Lillies
Production
Bound & Gagged Comedy in association with Tim Whitehead
Performers
Vocals, Accordion, Piano, Guitar / Martyn Jaques
Double Bass, Musical Saw, Theremin, Vocals / Adrian Stout
Drums / Voodoo Drummer / Budi Butenop
Hauntingly beautiful and unique beyond measure, deviant and experimental The Tiger Lillies play as comfortably in a sticky, smoky dive bar as they do in a grand theatre. Created by "criminal castrato" Martyn Jaques, the cult trio has returned at last to the Edinburgh Fringe.
Heavily Weimar era-inspired musically, The Tiger Lillies live on the cusp of Victorian-era Soho, London and in this One Penny Opera take you through their version of two of their biggest influencers, 18th century Beggar's Opera by John Gay and Bertolt Brecht and Kurt Weill's Threepenny Opera, dotted with all the usual suspects: menacing Macky (Mack the Knife), vengeful Pirate Jenny, lovesick Polly Peachum, morally bankrupt officer Tiger Brown and more. 
Has Lucifer stolen Cupid's bow or is that Adrian Stout (the King of the Beggars) on theremin, double bass, spanish guitar and the musical saw?
The beating black heart of the trio, Budi Butenop (Tiger Brown) supports stage left on drums, setting the percussive mood from snare to bass to brush, clowning all the way.
In lyricism, Martyn, the madman at the helm of these terrible troubadours, draws from his own experience of his early days living above a brothel in Soho. White makeup and sunken eyes paint him as a salacious skeleton, but beneath it is something so tender it touches the back row. To describe his singular voice would be to tell you that it is as if Hyacinth Bucket ditched Richard and ran away to command a pre-war German bawdeville revue with a midnight time slot. In all seriousness, he is a sordid swallow of a countertenor and an impeccable multi-instrumentalist across accordion, piano, ukulele and guitar.
Smoothly transitioning between Sprechgesang and soaring falsetto, operatic Jaques leads tunes that alternate between sharp gin and treacly tonic. Part Brechtian cabaret, part vaudevillian, part performance art, the trio's morbidly comic polkas are oom-pah-pah-profane and their New Orleans stomps and call-and-response are hidey-ho-rrific; songs so foul shouldn't sound so sweet. Whistly singing saw lilts over the plinky, solemn French chanson lullabies echoing as if beneath a cobbled bridge on the Thames where, under a misty full moon, these vagabonds serenade the city's dark angels to sleep with tales of prostitution, heroin, thievery, corruption and all manner of nasty deeds.
Gig theatre that is a runaway train of sickly, daren't-I delights, boiling over with macabre myths of the 1930s, The Tiger Lillies: One Penny Opera is eating a candied apple concealing a hidden razor while a fat cat looks on, swirling his finger round a crystal glass of formaldehyde, the resounding ring a rousing homage of murder ballads to the seedy sailors, the anti-heroes, the underbellies.
The Tiger Lillies: One Penny Opera tickets: here
Aug 8-9, 11-14, 16-21, 23-28 | 21:20
Suitability: 14+ (Guideline) ((hah!))