Image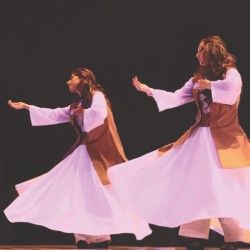 Production
(None Provided)
Performers
(None Provided)
This is a show and an experience! An exploration of Islamic Sufism, with its extraordinary history and culture, created an online experience which can be accessed at any time via a website. 
From the opening there is an immediate positive impression. The structure is smooth, clean, and well produced. From the beginning the format for the programme and the journey ahead is explained and coupled with an introduction and brief explanation of Islamic Sufism; this, however, is no recruitment video but an exploration of this religion.
The opening scene with whirling dancers spiralling in never ending circles coupled with transcendental music is beautiful. There is a calm serenity in both the dance and choral singing.
There are high production values evident from the beginning with good camera work, high fidelity sound and excellent editing. This is a professional package, well-considered with good pacing and structure.
The soundtrack is not an afterthought. The music which accompanies all the chapters is exemplary, encompassing and encroaching upon the divine. There are subtle touches in the creation of this piece of work and the path along which the audience treads is profound and powerful.
The richness and dense cultural nature of this world is beautifully explained and presented in an effective way.
Tickets here
11-29 August