Image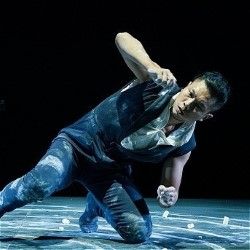 Company
Incandescence Dance
Production
(Choreographer) CHENG Hao (Director) CHEN Kuan-yu, CHENG Hao (Director of Photography) CHEN Kuan-yu (Cinematographer) CHEN Kuan-yu, CHEN Shih-en, YANG Che-chi (Editor) CHEN Kuan-yu (Voice Recording) Mellow Step Studio (English Material Writing) Wei-Yi Lin (Dramatic and Creative Concept) Wei-Yi Lin (Project Manager) WU Yan-xian

Performers
(Dancer) Hao Cheng
Hao Cheng delivers a fascinating and absorbing performance in 'Touchdown'. The dance explores the relationship and comparison of human life with the existence of the electron. Electrons inhabit orbits or shells and the higher the orbit the higher the energy. Falling from one orbit to a lower orbit releases energy in the form of light. This is an engaging simile of life, and the dancer expresses the confines and freedoms of this existence with a controlled but emotional presence.
The conceptual framework of quantum physics to explore and focus the roving eye on life and it challenges seems unusual but works well. This is more than just a philosophical debate; it contains some strangely poignant and compelling insights.
The performance takes place on a black dance floor which doubles as a chalkboard. And Hao Cheng's performance is traced in circles, spirals and spinning lines and whorls. The final drawing of lines looks remarkably like one of those graphics often seen resulting from a Large Hadron Collider experiment.
The ending scene with pieces of chalk falling randomly from the sky like rain creates an emotional conclusion to this piece with a real sense of sadness and dissipation. At the end I also felt like this performance could easily be developed and expanded so effective was the metaphor and its interpretation.
Show Time:
Summerhall (Online Performance ZOOTV)
Ticket prices: £5