Image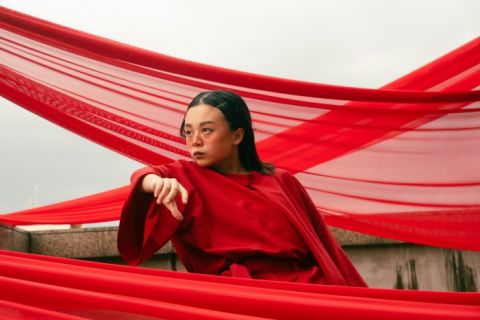 Company
Les Petites Choses Production
Production
(Artistic Director) Nai-Hsuan [Sunny] Yang (Choreographer) Nai-Hsuan [Sunny] Yang Storyteller
Chi-Kai Hsu (Costume Designer) Po-Chen Lin (Composer) Sam-Seng-Hiàn-Gē (Photographer)
Pi-Tzu Liu (Dramaturgy) Yun-Cheng Chen (Rehearsal Director) Yi-En Chen (Movement Adviser) Su-Lien Lin (Peking Opera Movement Adviser) Shin-Wei Yeh (Calligrapher) Chih-Chung Chen (Company Manager) Hsin-Ning Chen (Script Translator) Chai-Ju Shen (Film Director) Phebe Wu (Film Producer) Kam-Tao Colin Ip (Director of Photography) Yo-Young Chuang (Camera Crew) Yu-Jie Lin, Wei-Yeh Nick Lin (Gaffer) Hippo Sung (Best Boy) Li-Hao Shiao (Editor) Phebe Wu (Colorist) Chloe Yu | Huemove Studio (VFX) Vito Lee
Performers
(Dancers) Yu-Hsun Pan, Pei-Rung Chu, Le Shen, Ho-Chien Chang, Yi-Ju Chen
This is 14 minutes of wonderful dance. The work by the Artistic Director Nai-Hsuan [Sunny] Yang draws from an ancient tale 7 centuries old and spanning more than a century. The story of ancient war lords is still popular today in modern Taiwan and has resurfaced again in this contemporary dance piece.
The story now set in modern times utilises everyday living spaces for the performances, bedrooms, stairs, rooftops all become the stage for this compelling piece of theatre. The opening set in a bedroom is beautifully lit and from the subdued shadows and dark tones the dancers emerge as if rising from legend and myth. Kafkaesque scenes follow with one dancer climbing endless stairs and others fighting the confines of wardrobes. There are rich densely layered choreographed pieces which would be virtually impossible to reproduce on a dance studio floor and the use of video here has built upon and enriched the viewer's experience.
A 'red' sequence occurs within the dance with the colour red becoming the motif of the dance. Early morning light throws shadows and shards of illumination across the sets and wind-blown cloth surrounds a rooftop sequence which is joyous. There is an ebb and flow throughout the whole piece and martial elements of the dance do not overwhelm the natural beauty and movements of the dancers.
This is worth watching more than once and with the sound as high as you can get. The music is integral to this theatre and is a perfect accompaniment.
Show Time:
Summerhall (Online Performance ZOOTV)
Ticket prices: £5