Image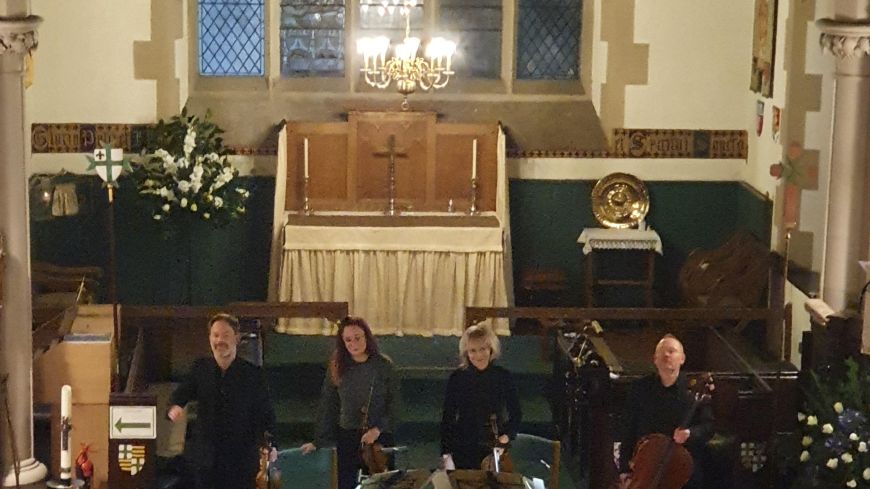 Company
Edinburgh Quartet
Production
Joseph Haydn - The Seven Last Words of Our Saviour on the Cross
Performers
Tristan Gurney (violin), Gaëlle-Anne Michel (violin), Catherine Marwood (viola), Mark Bailey (cello)
An ingenious adaptation of a recital of Haydn's great work, this was the opening evening concert of the 'Edinburgh Festival of the Sacred Arts' – a week long programme of events taking place at St Vincent's.
'The Seven Last Words of Our Saviour on the Cross' comprises seven sonatas between an introductory movement and the closing 'Earthquake' section. Each sonata was originally intended to accompany otherwise silent periods of reflection following each of the seven sermons in the church's Good Friday liturgy. In turn, each of the sermons would have focused on one of the seven 'last words' that the Bible reports were uttered by Christ during the very last moments of his earthly life.
We have heard the Edinburgh Quartet perform Haydn's celebrated masterpiece at the Fringe before, and here again the recital was accomplished. Similarly, in place of the 'sermons', poetry was again read – but this year the selection made all the difference, with each piece having an overtly Passiontide theme. The result was transformative: a liturgical experience rather than pure performance, the poems and the sonatas complimenting each other beautifully, and more authentic to the context in which Haydn's work would have been originally performed. Each poem concluded with the reader announcing the 'Word' that was the inspiration for the following sonata, and this signposting helped give structure to a recital that can otherwise seem to appear as a lengthy compendium of separate musical works.
For some, the absence of audio speakers in the gallery meant that there was a little difficulty in hearing a couple of the items of spoken word. Nonetheless, the vibrancy and colour of the music was astounding.
The performance finished at 8.45pm.
Seven Last Words from the Cross, Sunay 15th August, 7.30pm, St Vincent's Chapel
Tickets for other events throughout the week at www.edinburghsacredartsfestival.org