Image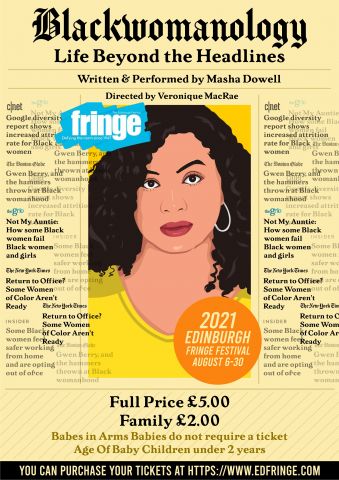 Production
Masha Dowell (Creator & Producer); Veronique Macrae (Director); John Markadakis (Cinematographer); John Tarver (Tech); Loreal Ray (Production Assistant)
In this pre-filmed online piece, Masha Dowell embraces a journey to self-awareness as a black woman and, to discover as Burns would say, "the gift to see ourselves as others see us". With a warm and welcoming persona, Dowell, in using a conversational style for telling the story of her own understanding of herself as a black woman. draws us in and she recounts the various women who influence this perspective along the way.
This is a work in progress, so it is still on its own journey of discovery, but the conversational style of this works really well in engaging the viewer. Dowell's impressions of the female influences she has had along the way are straightforward but distinct: from her mother, to her various employers and friends, each has their own take on the world they live in. The short scenes are just enough to pique our interest and make the viewer want to know more.
Where the piece doesn't work quite as well is with the lack of movement. Although Dowell flows well between characters, it would benefit from having some movement from the seated position to keep the energy going. In addition, when characters are differentiated to the side, we lose some of the nuances in their physicality. Despite this, it is clear there is much potential for this to grow.
Show Time: 30 August @ On Demand
Ticket Prices: £2.00-£5.00