Image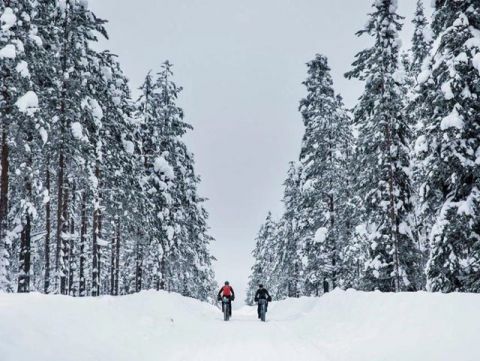 Company
Edinburgh Mountain Film Festival (Stevie Christie, Festival Director)
Performers
Helen Rennie (Hilly Skiing), Kai Jones (Far Out), Kenny Mackay (The Postman), Emily Scott (Project 282), Alastair Humphries (My Midsummer Morning)
From 15th – 16th February, the Gordon Aikman Lecture Theatre was host to the 16th Edinburgh Mountain Film Festival, a stunning and energetic showcase of exciting adventure and soul-stirring expeditions. The death-defying jumps are excellent fun, but the programme really shines in the films that are set close to home and have a solid emotional heart.
The Festival champions escapist entertainment, with sweeping vistas blown up enormously in front of our eyes, often with a lone traveller miniaturised to a speck at the bottom of the frame. Our protagonists explore and traverse these landscapes because they are utterly committed to a life of breaking free of traditional comfort zones. They document every step of it along the way because without visual evidence we couldn't quite believe the adventures they went on.
As opposed to the other sessions that showcased longer documentaries as well as a guest speaker, Sunday morning began with a family-friendly, film-only session of shorter, more accessible films. There were funny skits, daredevil stunts, and all had one thing in common – they framed their subjects earnestly. The filmmakers took their love for adventuring seriously, especially the younger ones. Our protagonist for skiing adventure film Far Out proudly introduces himself with, "My name is Kai Jones, I'm 11-year-old, and I love to ski because I can fly like a bird." After being turned away from bars and cinemas, he finds complete unfiltered freedom on the ski slopes. He is treated as an equal by older athletes – they recognise and value skills that others don't see.
The films that elicited the most laughter showed wild stunts being treated as regular, ordinary happenings. The Sunday morning opener Good Morning sees a skier jumping between snow-covered rooftops in a village in the French Alps, with locals giving a casual greeting as he sails by. The mountain-bike versus ski race at the centre of Corbet's Couloir is met with bystanders barely batting an eye, as if this extreme recklessness is a commonplace occurrence. It's a fantastic glance into a different way of living, taking full advantage of the conditions and climates so different from our own.
But the most compelling films were ones set in Scotland. Project 282 sees Emily Scott set out to ascend all 282 of Scotland's 'Munroes'. It's a brilliant showcase of self-reliance and determination, and the long stretches of solitude and brief encounters of company help her realise what she values most, to "live a life I don't have to get away from." Two films, Every Few Winters and the afternoon session's Hilly Skiing, centre on the uphill battle of skiing in Scotland. Those keen to get on the slopes must deal with unreliable and inconsistent snowfall, ski-able patches decreasing to several metres, and spontaneous poor visibility. In an amusing sequence, three skiers patiently wait hours atop mountains to get a brief window where they can descend. There is a wonderful commitment to Scotland seen in these films, an endearing passion for making the most out of the uncontrollable weather and impossible terrain.
Hilly Skiing beautifully contrasts two acknowledgements of loss and suffering – as the usually bubbly and determined skier Helen Rennie sombrely discusses her cancer diagnosis, a snow researcher laments the Cairngorm snow patches that are shrinking year after year. It's a remarkably tender juxtaposition, Helen's identity is bound to the hills and valleys so much that you feel that her illness and the loss of snow are somehow connected, a sickness affecting them both. Compared to the affectionate but clumsy film The Postman, the necessity for grounding the films in the personal is made clear. We meet the long-serving steadfast postman who acts as the only link between the island of Harris in Outer Hebrides and the rest of civilisation. While the footage of the postman Kenny Mackay is engaging and charming, a detached and flat voiceover feels repetitive and over-descriptive, ultimately failing to convey the emotional weight of the isolated island and its champion.
The morning and afternoon film sections each ended with films that differed hugely in content but were both fitting conclusions. Parkour vs Bike showed off in sweeping shots its athletes flipping, jumping and generally endangering themselves as they travelled through London and Paris. In contrast, the afternoon finale My Midsummer Morning was an infectiously charming story of adventurer Alastair Humphries busking across Spain, paying his way with his utterly terrible violin playing. The first is awe-inspiring, the second endearing. We see incredibly, impressive skill matched with an unstoppable determination to push forward. It's impossible to leave without a newfound desire seek some grand adventure, and annual repeat expeditions to the Edinburgh Mountain Film Festival are a must.