Image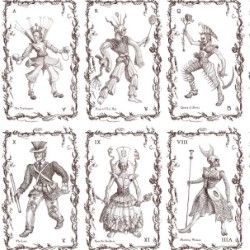 Production
Alex Rigg (Design & Direction) Guy Veale (Production Management) Alex Rigg, Hilary Ross, Laini Chrismas, Sarah Keast (Making Team)
Performers
Joey Sanderson, Lewis Sherlock, Laini Chrismas, Philip Alexander Macdonald, Jen Cunningham, Dylan Read, Guy Veale, Breezy Elthalion, Richard Merchant, Catherine Carter, Anders Rigg, Anna Porukansky, Isidora Bouziouri, Fionnuala Dorrity (Collaborative Artists)
'Transfigured – The Pack' reminded me of the medieval mummer groups except this collection were a mixture of genders, not all male. Mummers were groups of actors who performed plays and folk plays to villages and towns. This group possessed an element of that 'different', 'other' nature. The fantastical and extraordinary costumes of the performers are a delight in themselves and create a spectacle on the street where the piece is performed.
Audience members collect in the foyer of Dance Base before being gathered together and shepherded down stairs where the troupe awaits you, together with just about everybody else on Grassmarket who have spotted and are naturally attracted to this gaudy ensemble.
The performances, dialogue and narrative are truly surreal, but they are based upon the work of Surrealist Artist Leonora Carrington, so her approach and intentions are extended through this piece. The performance seeks to examine, explore and aid change and transfiguration of the world and its people. The Master of Ceremonies delivers a series of short dialogues before handing over to one of the 'pack' members who each then lead the next chapter.
Onlookers are used as standard bearers during each phase of delivery and hold aloft a representative banner or flag taken from the Tarot-esque like card set which each member represents. The material and its content are bizarre but strangely feel quite natural, and the shows noncompliance with the typical protocols of performance and entertainment are refreshing.
I'd go again and watch this troupe perform if they return to the Fringe next year; their different and alternate approach are both engaging and, well, transfiguring!
(Run Finished)