Image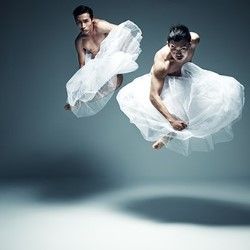 Production
Po-Cheng Tsai (Artistic Director & Choreographer) Otto Chang (Lighting Design) Ming-Chieh Li (Composition) Po-Chih Chang, Yan-Yun Deng (Video Design) Pan Pei Chun (Stage Manager) Meng-Hsueh Ho (Video Production) Tzu-Yin Hsu (Producer & Company Manager) Cedric Lambrette (International Coordinator)
Performers
Chien-Chih, Sheng-Ho Chang, Yuan-Hao Chang, Li-An Lo, Chin Chang, I-Han Huang, Yu Chang, Ming-Hsuan Liu
You enter a theatre where the dancers are warming up. It's a very casual and a very relaxed start. And then the lights dim, and the show begins. That is how 'Floating Flowers' commences. Like a tiny rivulet of rain running across a pebble before it joins a stream, which then flows into a river which eventually reaches the sea and a storm and a raging maelstrom.
The transformations, the moves and forms within the dance are myriad and amazing. A constant creation of ideas, creativity and flowing, streaming energy. The show is breath taking from beginning to end, each moment overflowing with momentum and innovation of concept and choreography.
Beautiful lighting changes and a soundscape which leads and follows with the dancers creates an holistic dense experience of sight, sound and emotion, everything from reflective sorrow to strange and funny images cascade from the stage.
The dancers are sometimes like flamingos gliding across a still and quiet lake and other times they are fluxing, shaking, twisting pillars of energy. The richness of creation in the choreography is quite an achievement it is just amazingly beautiful in its conception and delivery. And for the 60 minutes it seemre relentless and never ending.
I have given only a handful of 5 star awards in more than 15 years of reviewing, this will be one of them. Anything less would be criminal, indeed a constellation should be awarded to all those involved with the show.
Aug 10-11, 13-18, 20-25  3:30pm