Image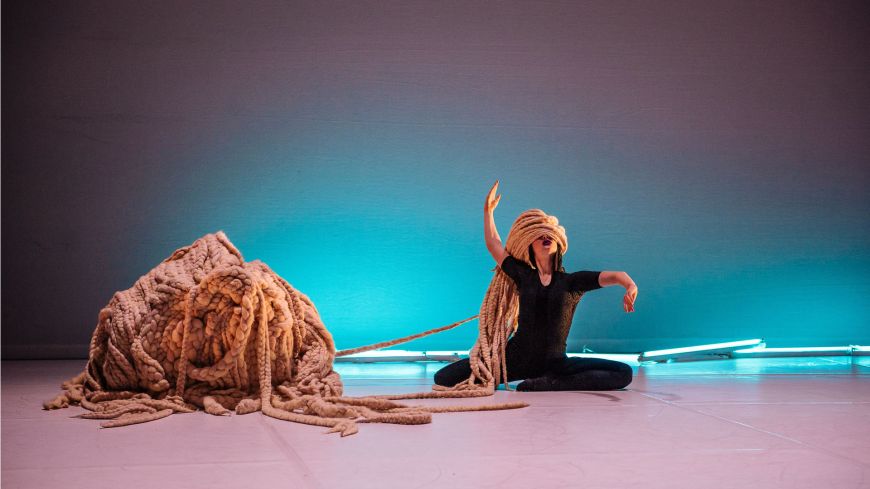 Company
Scottish Dance Theatre
Production
Colette Sadler (creation and choreography), Igor Stravinsky (music), Rike Zollner (costumes), Samuli Laine (lighting)
Performers
Kiernan Brown, Reece Calver, Harry Clark, Molly Danter, Luigi Nardone, Adrienne O'Leary, Giorgia Pirozzi, Jessie Roberts-Smith, Oscar Perez Romero, Pauline Torzuoli, Johanna Wernmo
Scottish Dance Theatre is internationally renowned for creative, groundbreaking work while choreographer Colette Sadler explores the transforming perceptions of the human body. The ideal partnership.
Ritualia is Sadler's artistic re-invention of Bronislava Nijinska's Les Noces (first performed by the Ballets Russes in 1923). This avant-garde masterpiece depicts the traditional rituals of a peasant wedding from blessing of the bride to celebratory feast performed to Stravinsky's modernist score based on Russian-Jewish folk songs, featuring soloists, chorus, four pianos and percussion.
"What tears I shed, you do not know,
The day my father gave his blessing;
They loosed my braids, and singing low,
 Led me to church. I had to go" 
Alexander Pushkin
A small hillock of tangled rope dominates the left side of the stage as one dancer emerges like an ant or mole, his/her/their head wrapped and entwined in thick Afro-style spiralling braids. The ensemble are all dressed alike in skin tight black hoody costumes for an androgynous fashion statement.  Enter Stravinsky's inimitable sound world of strident mechanical chords and untuned percussion with lyrics and folk tunes repeated, overlapped, juxtaposed, inverted and reordered with fast paced fluidity.  His approach to ballet was "See the music, hear the dance."
 The jarring, shifting rhythm inspires an explosion of physical energy in a free flowing trance of a dance.  From wildly expressive solo performances to a huddled sculptured group, shuffling in unison, imagine underground electro rave party meets ancient tribal ceremony.
The original poetic story of Les Noces has been lost in translation in this surreal, futuristic, gender-bending version, so don't expect to follow an emotional narrative journey.  However, the fusion of colourful lighting, glamorous Lady Antoinette style wigs, song, music and movement creates a visually dramatic, operatic and acrobatic spectacle. 
Show times:
19 - 24 August, 2019 @ 21:00
Tickets: £14 (£12)
Age guidance: 12 +