Image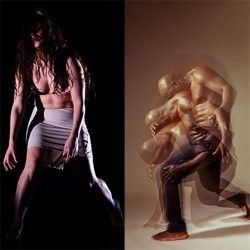 Company
Born to Manifest: DanceEast ~ Like Honey: Becky Namgauds
Production
Born to Manifest: Joseph Toonga (Choreographer) Ricardo Da Silva (Rehearsal Director) Emily Crouch (Producer) Michael 'Mikey J' Asante (Composer) Peggy Olisaegers, Kenrick 'H20' Sandy MBE, Sir Richard Alston CBE (Dramaturg /Outside Eye) ~ Like Honey: Becky Namgauds (Director) Yael Claire Shahmoon (Composition) Amy Sheppard (Producer)
Performers
Born to Manifest: Joseph Toonga, Theophillus 'Godson' Oloyade (Dancers) ~ Like Honey: Amanda Pefkou (Performer) Yael Claire Shahmoon (Vocalist)
This is a double bill show with two dances; Born to Manifest (Joseph Toonga) and Like Honey (Becky Namgauds) The opening performance of Born to Manifest with Jospeh Toonga and Theophillus 'Godson' Oloyade shines a bright and searching light onto the horrible nature of our society and the challenges that young black British men face on a daily basis. The dancing illustrates the restrictions, constrictions and daily resistance that is encountered. Within this same framework the vulnerability and toll this takes is also examined and some clear racial stereotypes broken open and cast to the wind.
It's a powerful piece with controlled performances from both dancers, they emanate frustration, anger and sadness with pent up physicality and flowing structured movements. The choreography is strong and avoids cliché and allows the performers a freedom to express themselves a factor that is not always achieved in contemporary dance.
The second dance; Like Honey (Becky Namgauds) is a par de deux between a vocalist, Yael Claire Shahmoon and a dancer, Amanda Pefkou who perform on stage together. This partnership is strong with clear interdependencies, cohesion and reciprocal engagement between the two players never dropping for a moment.
The singing or what might be better described better as verbal delivery is extraordinary and creates an entire backdrop for the impressive Ms Pefkou to engage with. The two performers are an impressive duo. In the latter stages of the dance higher energy levels are developed and the piece becomes much stronger and powerful because of it.
If I had any criticism it is with the opening sequence with the dancer lying on the floor and using her hair and hand as the vehicle for performance accompanied by the singer. This section is overly long, and eventually grows repetitive and mundane.
Aug 24-25  4:00pm