Image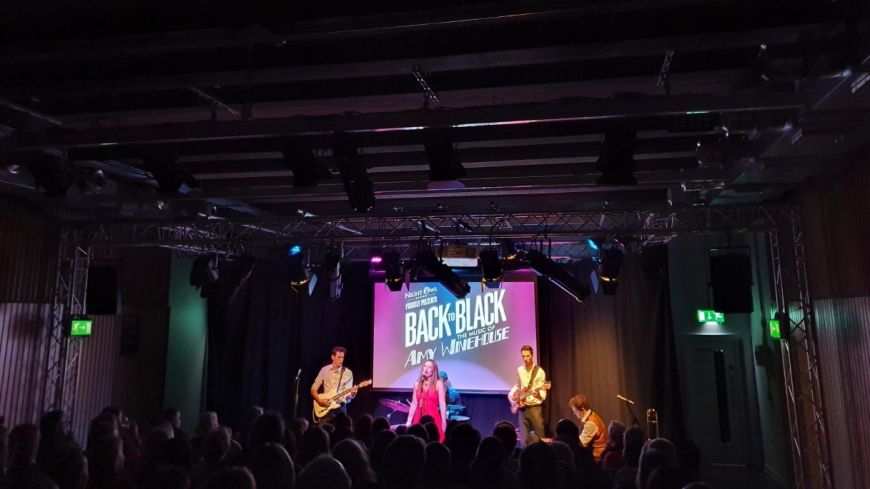 Production
Back to Black: The Music of Amy Winehouse
Performers
Reine Beau Anderson Dudley (vocals)
A heartfelt, gutsy and justifiably packed performance.
Much was made in this show not only of the iconic nature of the music of Amy Winehouse, but also of the public's parallel fascination with her personal life. To do a show combining the two was therefore not without risk, but the balance was beautifully and sensitively struck – the singing was simply superb, and coverage of Amy's own inner struggles was handled with genuine respect and empathy.
Reine infused the performance with so much feeling and emotion that we could hardly be unmoved. She had clearly mastered all the essential qualities that made Amy's voice both so unique and instantly recognisable, investing heart and soul for maybe the greatest soul singer of our time. And yet Reine's clear admiration for Amy's legacy – that she opened the door for so many artists who would follow her – made this so much more than a musical tribute act alone.
The first three songs came from Amy's debut album 'Frank', with its various jazz influences, before moving on to the the poppier numbers. Reine's own reflections were combined with media reports and images – these were interwoven around the sung material, such that the whole thoughtfully embodied the emotional roller-coaster that was the life and career of Amy's life with us.
The whole band gelled extremely well together, and the musical balance was just right. Although the stage they had to perform on was small, this added to the ambience of a sincere but celebratory occasion to remember so much achieved in just 27 years.
The sell-out audience loved every song – we were encouraged to join in the singing of 'Rehab', which the band led with vigour and verve. At the end, we were given a choice between 'Valerie' and 'Monkey Man' – although the former got the loudest cheer, none of us would have been disappointed with either. The performance finished at 8.10pm.
Back to Black: The Music of Amy Winehouse, Sunday 18th August, 7.20pm, theSpace @ Surgeons Hall
Performances continue every evening: theSpace @ Surgeon's Hall, until 24th August, 7.20pm, £14 (£12.50)