Image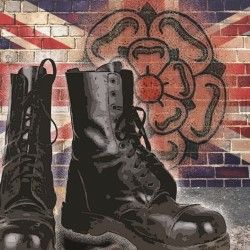 Company
Georgian Theatre Royal Youth Theatre
Production
Aimee Shields (Writer, Director, Musical Director), Jo Mawhinney (Producer), Tony Wilcock (Production Manager) with the legacy of Brian Tennant
Performers
Toby Broderick, Peter Longstaff, Lucy Padgett, James Longstaff, Jasper Worrallo, Christian Swift, Jake Torbet, Charlotte Richardson, Annie Stott, Emma Hannon, Daisy Chadwick
In a new play inspired by the 2007 film This is England, Georgian Theatre Royal Youth bring a new play This Is Yorkshire to the fringe festival with the help of the legacy left by Brian Tennant.
The story follows Sid (Toby Broderick), a young boy of 12 who struggles with life under Thatcher's government. When he is befriended by Coop (James Longstaff) and his gang of teenage friends, Sid finds popularity and respect; until Shiv (Jake Torbet) arrives on the scene, fresh out of prison, full of smooth talking-xenophobia and prejudice. Largely through loyalty to Cabbage (Jasper Worrallo), who has Polish parents, the gang is split; through manipulation of his own personal trauma, Sid slips further and further into Shiv's shadow to the worry of all his new friends.
The play ends very abruptly and with no real conclusion to the story which is frustrating, as the cast do very well in building sympathy and interest in the characters. Although it leaves many questions unanswered, what it does do is give a sensitive and sympathetic look into working class young adult life of the 1980s, and explores the friendships and tensions of young gang culture. It is difficult not to think about the British public's reaction to Brexit when watching these young people ranting and swearing about immigrants and lack of jobs and the injustices of being born into the working class. It is easy to claim something is relevant, and to draw parallels – but it seems that Georgian Theatre Royal's choice of subject is particularly apt in 2018.
The play is a double-edged knife though, and the rift in this group of friends brings out courage in some and misplaced trust in others. This youth theatre are a group of brave young people with a voice that wants to be heard.
Until 24th