Image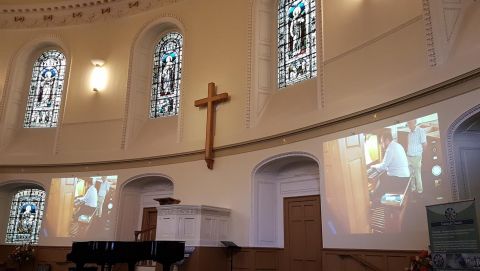 Company
St Andrew's & St George's West Church
Production
Offertoire sur les Grands Jeux (F. Couperin), Dalby's Fancy (H. Howells), Organ Sonata in F major (C. P. E. Bach), Trivium (A. Part), Concert Variations (H. East), Elegy (P. Spicer), Fantasia Chromatica (J. P. Sweelinck)
Performers
Jordan English (organist)
This was the second in a series of lunchtime recitals in the Georgian setting of St Andrew's and St George's West Church.
The atmosphere created for the afternoon was largely quiet and reflective, and much of the music was set to manuals only. Within the programme, a number of interesting items were included that are seldom heard or performed, and that there was an Introduction at the beginning of the recital was clearly appreciated in telling us something about these more obscure pieces. CPE Bach is better known for his works on the clavichord, and the Sweelinck item is generally regarded as composed for the harpsichord.
The 'Trivium' by Arvo Part was a fascinating item to hear played, and is a masterpiece of the modern minimalist style. The triune structure is incredibly profound in both its spirituality and musicality, and the powerful middle section was brought out very well indeed on this particular organ, holding together themes of both disturbance and balance in their inseparable tension. Sweelinck's 'Fantasia Chromatica' was another seminal work performed – it is famed for its expressive treatment of dissonance, and its complexity and intricacy was carefully handled.
Overall, this was probably a recital that would have appealed more to the veteran and stalwart devotee of organ music, rather than to those with a passing or casual interest. There were some slight problems with the equipment projecting the view from the organ gallery into the nave of the church, but this was a great idea, which helped people to engage. The recital clearly acted for many as a musical oasis in the middle of the day; the performance finished at 1.30pm.
Organ Recitals in the City, Wednesday 15th August, 12.30pm, St Andrew's & St George's West