Image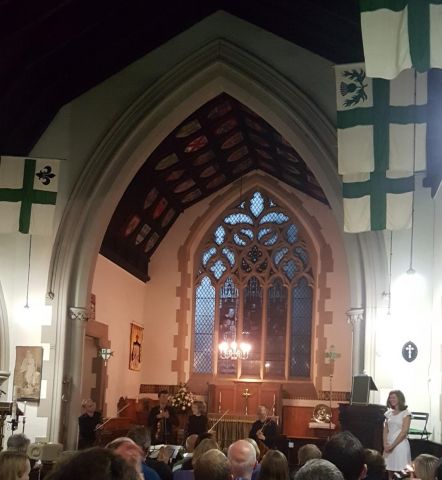 Company
The Edinburgh Quartet
Production
Joseph Haydn - The Seven Last Words of Our Saviour on the Cross
Performers
Tom Hankey (1st violin), Jennifer Rawson (writer), Catherine Marwood (viola), Mark Bailey (cello) – substitute 2nd violin
Haydn's 'The Seven Last Words of Our Saviour on the Cross' was originally written for the Cathedral in Cadiz, designed as a liturgical work for Good Friday; it provided musical material for meditation after each sermon on the one of the final utterances of Christ. Divorced from this context, many audiences can tend to view Haydn's work as just a fairly conventional set of nine musical movements. A stroke of wisdom in this performance, however, was to include a series of thought-provoking poetic readings, in between the sonatas, thus recovering a key component of the original historical context, and so making the recital much more faithful to the intentions of the composer.
The readings were written and delivered by Jennifer Rawson, an up-and-coming poet and author. They were beautifully crafted, and were dense and rich with biblical imagery, metaphor and symbolism. People were clearly moved by the reflections, and felt they may benefit by revisiting them; there were requests for copies to be made available afterwards. They held the audience's attention, and helped to anchor the recital overall. Occasionally, however, the readings tended to be rather generic, drawing on overarching Christian themes, rather than tackling those specific to the subject at hand – this was especially the case with no. IV.
In many musical interpretations of the Passion of Jesus, the audience is invited to bewail and lament the tremendous agony and pain of the Crucifixion. However, that many of the sonatas in Haydn's score are written in a major key, can mask something of the narrative's horrific events. This is of course no fault of the performers, and the pieces were exquisitely performed in their consolatory style; by way of contrast, the 'Earthquake' movement at the end was a tour de force, and evidenced a splendid mastery of complexity.
Despite a persistent and distracting noise coming from the front of the church throughout the performance, this recital was clearly greatly appreciated, and there was extended applause at the end. The performance finished at 8.37pm.
Haydn: Seven Last Words, Sunday 12th August, 7.30pm, St Vincent's Chapel