Image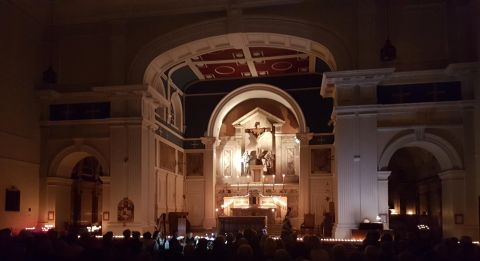 Company
St Andrew Camerata
Production
Gabriel Faure – Requiem, and Cantique de Jean Racine
Performers
Vincent Wallace (director), orchestra & choir
This was an absolutely outstanding recital, which held the audience spellbound throughout. We began with the 'Cantique de Jean Racine', which was faultlessly legato, and as silky as it was expressive in its enchanting performance.
St Patrick's seemed to be the ideal venue for the occasion, the candlelit church providing such stillness and beauty for the music performed. That most of the audience were therefore unable to entirely see the performers' faces meant that our attention was solely focused on the music and the atmosphere; the only thing in the church picked out especially by lighting was the scene of the crucifixion above the high altar, which was especially fitting for the Requiem. Otherwise the flickering of the candles at the votive stands and around the perimeter enfolded us entirely and rightly within the music itself.
The Requiem, the substantive part of the recital, was exquisitely executed under the direction of Vincent Wallace. This was the more authentic early version, in an edition by John Rutter. Although the St Andrew Camerata have performed this work on many occasions before, there was a freshness and vibrancy about it, that was altogether captivating. It is very difficult to pick out any part of the Requiem as deserving of more praise than the other, but few will have heard the Pie Jesu and In Paradisum sections performed to such a high quality before. Also of particular note was how well balanced the ensemble was throughout; all parts – instrumental and vocal – were entirely complementary of one another, both at moments of depth and richness, and also at times of delicacy and intricacy.
The encore for the evening was 'L'Hymne a la nuit' by Jean-Philippe Rameau. Sung unaccompanied, this is usually a quiet piece, but sung with such exceptional softness on this occasion; indeed, you could have heard a pin drop in the audience! The only disappointing about this performance … was that it had to end – the performance finished at 11.00pm.
Faure Requiem by Candlelight, Saturday 11th August, 10.00pm, St Patrick's Church