Image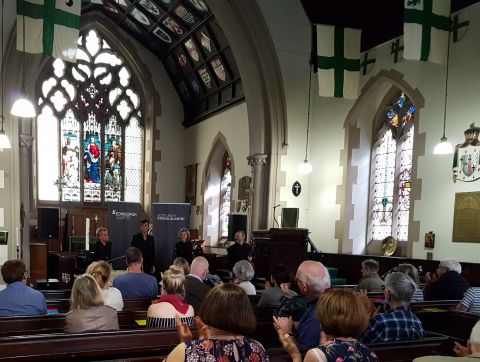 Company
Edinburgh Quartet
Production
Dvorak's – String Quartet No. 14 in A flat Major (Op. 105), plus a selection of Armenian and Danish folk tunes
Performers
Tom Hankey (1st violin), Catherine Marwood (viola), Mark Bailey (cello) – substitute 2nd violin
The Edinburgh Quartet has been undertaking a journey this week through chamber-music gems, of which this was the third and final such performance. The showpiece of today's recital was Dvorak's String Quartet No. 14 in A flat Major, Op. 105. Before this, we were treated to four Armenian folk songs. Despite little information being known about these, the varied vibrant harmonies that typifies Armenian folk music shone through, and there was a rich intermingling of the reflective and ponderous with the lighter and lively, culminating in a rich display of drive and gusto.
The central item, Dvorak's String Quartet, was performed with the prevailing positivity that is the central mood of the music. In the first movement, control was maintained through a gathering momentum of both tension and complexity, while the second had a wonderful lyrical quality to it, and an overarching vibrancy. The third movement was evocative of warmth and contentment, no doubt reflecting something of the personal and spiritual space that the composer himself likely enjoyed at the time; there was an expressive freedom that spoke of tranquillity and serenity. The fourth and final Allegro movement arguably gave greatest prominence to the individual talents of the four performers, and finished with a jubilant and rapturous climax.
The recital concluded with the performance of three short Danish folk pieces or wedding songs. Certainly, the first conveyed a very real sense of romanticism, and the second celebrated a particularly moving and memorable motif, while the third was hallmarked by its punctuated simplicity.
It was unfortunate that more details were not known about the folk tunes at the beginning and end, which felt rather coincidental to the substantive work performed, and the information in the printed programme about the Dvorak item itself was limited; but overall this was an enjoyable experience of music to soothe the soul on a Friday afternoon. The performance finished at 5.15pm.
Edinburgh Quartet: The World's Greatest Chamber Music, Friday 10th August, 4.00pm, St Vincent's