Image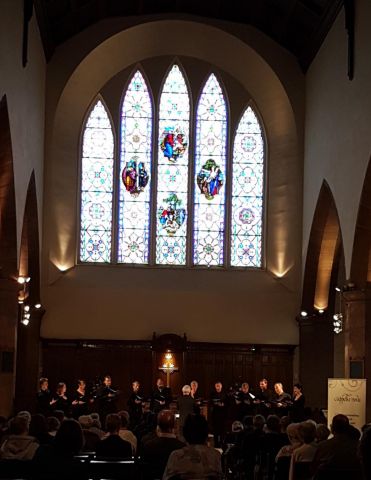 Production
Missa L'Homme armé (Robert Carver), Immortal Peace (Joanna Gill), Dona nobis pacem (Lisa Robertson), together with items of Gregorian chant
Performers
Alan Tavener (director), Capella Nova (choir)
Music of breath-taking beauty awaited us at Greyfriars Kirk for this afternoon recital of largely late Mediaeval Scottish polyphony.
The principal piece was Robert Carver's 'Missa L'Homme arme' for four voices, dating from around 1520. His works are known for their astonishing complexity – another of his masses was written for ten voices, and one of his motets for no fewer than nineteen! The Cappella Nova choir gave us a polished and professional performance of Carver's work, which did indeed appear to be fiendishly difficult – but the singers not only handled it, they had clearly mastered it. Beguiling the audience, the apparent ease with which the choir were able to explore and navigate Carver's rich polyphony was a true pleasure to listen to.
One of the many interesting features of this recital, was how the highly decorative setting of Carver was punctuated with the disarming simplicity of Gregorian chant, to which the Mass Propers were set. These were marked by a perfect purity in the male voices of the Choir; the overall effect was of surreal transcendence, as were were taken both back in time and through it, as something of the eternal seemed captured in the present.
Carver's work was consistently sung with a light, lofty and ethereal feel. Cappella Nova's mastery of the music took us from intricate counterpoint, to great climactic moments, such as the great Amens at the end of the Gloria and Sanctus & Benedictus. The final sequence of the Agnus Dei communicated in a very moving way a sense of overall completion and culmination.
Within the programme, we also heard two new works: the winner and runner-up in the recent competition for unpublished female composers, the entrants being required to set the three words 'dona nobis pacem' (grant us peace) in short 'a cappella' works. These were to reflect both the 100th anniversary of the Armistice of WWI, and also the centenary of women's suffrage.
The prize was won with Gill's 'Immortal Peace' – the work began with a haunting soprano solo, before bringing in the full complement of the choir, and plunging us into the subliminal depths of the male vocal range; it spoke hauntingly of the themes we were invited to ponder. Robertson's work came very close to winning – and you could see why: the work was marked with the chromatic and discordant, with the whispered words softly sung. It too conjured up images of the precariousness of peace in a powerful way.
Though for the first, this will certainly not be the last time that we will be hearing either of these pieces. Both choir and composers received genuine and extended applause. The performance finished at 5.05pm.
Dona Nobis Pacem, Thursday 16th August, 4.10pm, Greyfriars Kirk