Image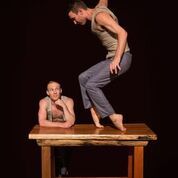 Production
Jesse Scott, Lachlan McAulay (Creators
Performers
Jesse Scott, Lachlan McAulay
Returning with a two man show to this year's fringe, Jesse Scott and Lachlan McAulay from Casus Circus bring You & I to the Assembly Roxy and succeed in creating an intimate and beautiful performance.
The most wonderful thing about this duet is that it is visible and honest. When the rain comes and they are stuck indoors, these two men take an hour away from the rush and hustle of the world to entertain one another, have fun, and enjoy the company of the other. What they create onstage is a personal snapshot of love between two men, and a beautiful paragraph in the chapter of this relationship.
Casus: You & I mixes impressive circus skills and the artistry of dance with fluid physical theatre that speaks volumes with the quality of movement. There is light and shade, comedy and feeling. Occasionally when they stray from the physical disciplines a few things go astray, but this is easily forgivable with the gentle charisma of the two performers. There is an imperfect quality to it even when they are entirely in control; the shake of a muscle, the tremble of a lift hints of shyness, and the ultimate closeness of the two performers.
The performance is understated, and the storytelling is gorgeous. It is true that the circus skills on show are severely impressive, but we are allowed enough time to wonder at them - it is calm and gentle enough to feel the heartbeat of the performance. The luxurious quality of a rainy day and having nothing to do but enjoy each other's company until the rain passes is a welcome find in the hustle of the fringe.
Until 26th (not 13th or 20th)