Image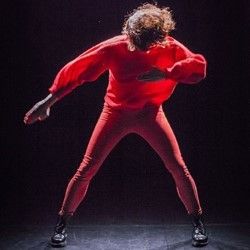 Company
Leslie Mannès / Sitoid / Vincent Lemaître
Production
Les Brigittines, Asbl Hirschkuh, Cosipie asbl (Production) Vincent Lemaitre (Light Design) Joëlle Bacchetta / Bloom Project (Artistic Collaboration) Hichem Dahes (Photography) Stéphanie Barboteau (Diffusion) Gaspar Schelck (Light Operator) WBI, La Balsamine, VAT, le Grand Studio (Supporters)
Performers
Leslie Mannès (Dancer) Sitoid (Original Live Music)
Now, this is radically different, a refreshing and genuine step outside the typical, an adventure or experiment in dance and a collaborative effort amongst creatives who are attempting to move beyond the normal or everyday constraints which dance often works within.
Leslie Mannès as the performer dressed in red from head to toe and wearing what look like Doc Martins crashes the stage on a tsunami of collated sound and light and movement. This is the representation of a future heaven or hell (according to your tastes). An Ibiza on steroids with a strong injection of addiction, obsession, fear and compulsion. This piece looks at the balance between the dancer and their surroundings. It explores how one invades the other about how one controls or concedes to the other – but which one?
The ensemble of light, sound and kinetic energy (calling it dance almost demeans what this is) has been beautifully sculpted and configured into a confrontation. This show will assault what you think is dance, it will likely get you to question its form and intention, but it will get you to think. Don't look for a simple narrative, a story, look for experience and emotion and experience.
Leslie is quite some performer but the integration with her co-creators has produced a finely balanced show which walks the path between the avant-garde and the bizarre and I love the blurred edges that frequently steps over. Dancebase is a fine cradle for this cauldron of creativity and it is to their credit that they have this show in their line up.
21-26 August, 16:45