Image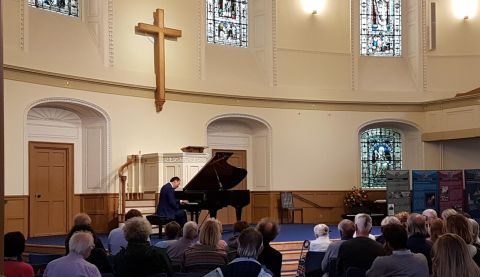 Production
Chromatic Fantasia in D minor & Chaconne in D minor (J. S. Bach – arranged by S. Warzycki and J. Brahms respectively), Studies on the Etudes of Chopin (L. Godowsky), Sonatine pour Piano (D. Lipatti)
Performers
Stefan Warzycki (pianist)
One of the best things about performances at the Edinburgh Fringe, is that there is always something that comes up that's a little bit different. This, the second of two piano recitals given by Stefan Warzycki, was certainly that – with all of the pieces being played by the left hand only.
While it is true that Warzycki is unable to play with his right hand, due to focal dystonia, the pieces he played were anyway written for the left hand alone, apart from the Chromatic Fantasia, which the pianist arranged himself. Bach's 'Chaconne' was transcribed by Brahms, who was frustrated at not being able to play the 'Chaconne' on the instrument for which it was written (unaccompanied violin), and so turned to the piano instead!
Seeing Warzycki play, one cannot help but be overwhelmed with huge admiration of his unique talent and gift. He is truly mesmerising to watch, generating such fluidity and expressiveness that you don't think possible. The dynamics and flourishes exhibit textbook control combined with virtuoso extravagance. Thus there is a hypnotic fascination about the pianist's playing – a strange beauty in something which seems also so strange, and in something so complex that gives musical vertigo.
Those of us who have endeavoured to play Chopin's 'Etudes' will know how difficult they are already with both hands; Godowsky embarked on one of the most extraordinary projects in the history of piano music, by transcribing them all into the left. The result is his set of 'Studies', which Warzycki plays with jaw-dropping flair. This was especially the case with Godowsky's Study 18a and number 22 – the latter, from Chopin's Etude in C sharp minor – demands the pianist reach to full capacity, his hand expertly crossing the full expanse of the keyboard. Godowsky's translations are often incredibly faithful to Chopin's original score, and that his 'Studies' are unmistakeably corresponding, depends on the dexterity of the pianist actually playing them.
Warzycki has now been playing such pieces for a number of years, but he still retains the ability to keep audiences thrilled and transfixed. The performance finished at 1.35pm.
All(most) Bach and Chopin, Friday 17th August, 12.30pm, St Andrew's & St George's West