Image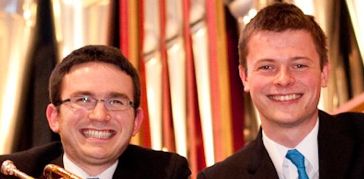 Company
Hot Chocolate at 10: Late Night Classical Music in the heart of the Old Town
Production
Olivier Messiaen, Jean-Michel Damase, Flemming Chr. Hansen, Petr Ebden (after Marc Chagall)
Performers
Tom Poulson (trumpet), Calum Robertson (organ)
It was a pleasure and privilege to hear the 1880's Father Willis instrument played at this remarkable venue by an equally amazing organist - and also a fantastic trumpeter who wowed the audience assembled. It was additionally most helpful to have a personal explanation regarding the historicity and various registrations that the organ was capable of, by the recitalist beforehand.
The Messiaen piece gained momentum with increased and rousing complexity, though this occasionally led to a slight imbalance between the organist and trumpeter. Nonetheless, this is a combination that we very rarely hear. The Damase piece was greatly enhanced by a talented use of the swell pedal.
The inspiring and hauntingly beautiful Interlude in memory of David Sanger was particularly poignant - not only because he was my former organ tutor at Exeter College, Oxford, but also regarding the connection with him being Consultant/Curator to the Usher Hall's organ here in Edinburgh, prior to his death in 2010.
The four Eben pieces, based on the themes enshrined in Chagall's windows, were as inspiring as much as diverse. The 'Blue Window' item gave an escalating undercurrent of tension; the second piece was much more pastorally free; the third was unashamedly energetic; while the fourth and final item brought us back to the hope of the haven of heaven, and to a resonant and consoling spirituality.
Two incredibly gifted musicians brought us a programme most demanding in nature, but they worked seamlessly and harmoniously together, and it was a joy to view.
Performance: Wednesday 25th August 2017, 10.00pm