Image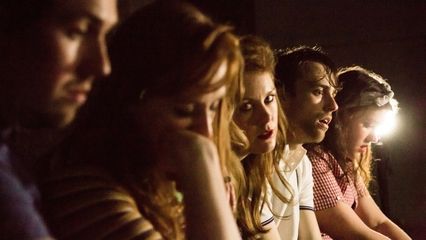 Production
Mark Calvert and Meghan Doyle (associate directors), Jake Orr (producer), Jeremy Bradfield (musical director), Martin Hylton and Debbie Hylton (movement directors), Kev Tweedy (lighting designer), Nick John Williams (sound designer), Collette McCarthy (R&D dramaturg), Doug Hill (project consultant).
Performers
Stan Hodgson (Ray), Andrew Bleakley (MC), Alice Blundell (Clyde), Maria Crocker (Rosa), Meghan Doyle (Ida), Alex Tahnee (Margot).
This is a story about stamina and triumph over adversity, and it starts with a self-proclaimed fabricated tale passed down father to son.
A tale of depression-era dance marathons as portrayed in "They Shoot Horses, Don't They?".
So, welcome to the stage Ray, frontman of the Rayettes, his backing band. The only problem being that Ray keeps his charisma in a jar under his bed. The depression in this case is his own. After years of fighting back the tears he simply wants the pain to stop. For now, he is just being, not talking.
He seeks out one of these legendary dance marathons – a dangerous 24-hour event that will see broken bodies and broken dreams as they dance to the end, the only rule being to not let your knees hit the ground.
Under a No Miracles Here neon sign he meets a man waiting to be painted in the Golden Hour, just after sunrise. He doesn't believe in miracles and offers enlightened, scientific knowledge on the chemicals and processes that influence mood. The sign is like Nathan Coley's work at The Scottish National Gallery of Modern Art, an imperative to depart the irrational and to take responsibility for one's own actions.
The dance is open to all – the twirlers and twerkers and even Ray who only dances at weddings, it does not discriminate. Here he will meet Madonna-ish Rosa, who likes the feeling of control but drops Ray as a partner as he doesn't seem a winner. Ida is down, sometimes she can move, but sometimes her feet are leaden.
Round after round they grind on, the band his support, as a tired Ray flits with ideas of whether, in the absence of miracles, change might still be possible.
There is energy in this well intentioned devised musical fable but it flogs its rather facile "small steps", "one foot after the other" message. The music and the hoofing drive the piece along but are not outstanding in their own right.
It's entertaining enough and mildly illuminating but theatrically there are no miracles here.
Show Times: 5 – 26 (not 9, 16, 23) August 2017 at 11am.
Tickets: £12 (£10)
Suitability: 14+