Image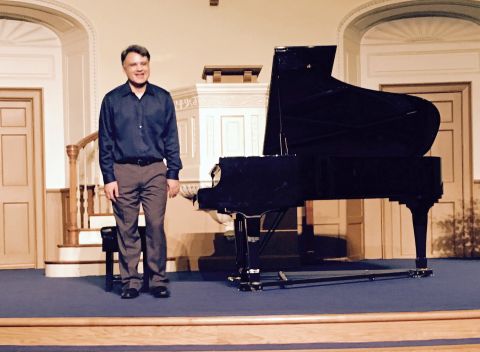 Company
St Andrew's and St George's West at Festival Time
Production
Schubert, Klavierstück D946 No 2; Schumann, Fantasie Op 17; Chopin, Waltz Op 70, Nocturne Op 48, Mazurka Op 24; Liszt, Étude D'Exécution Transcendante, "Feux Follets"; Debussy, Étude pour les Quartes; Stravinsky, Trois Mouvements De Petrouchka.

Performers
Charles Whitehead (piano)

This was a particularly pleasing recital of some of the best piano music by well known composers: Schubert, Schumann, Chopin, Liszt, Debussy and Stravinsky. Charles Whitehead is a New Zealand concert-pianist of Pacific Island heritage who currently lives in Texas, USA. The programme notes told us that he has a diverse repertoire and has played in many parts of the world.
The concert consisted of two major works, surrounded by shorter but just as sophisticated works. The first was from Schubert before Charles Whitehead embarked on the three movement Schumann Fantasie Op 17, the first rhapsodic and passionate, the middle is a grandiose rondo based on a majestic march before ending with a slow and meditative finale. It is considered one of the central works of the early Romantic period. Schumann wrote it whilst separated from the love of his life, Clara.
After a short interval we heard a Chopin Waltz, Nocture and Mazurka followed by Liszt's Étude 'Feux Follets' and Debussy's Étude pour les Quartes. By now I was convinced that we were hearing a very well rehearsed and professional pianist. And so it was to have him then tell us that he was going to tackle the three Petrouchka adapted ballet movements by Stravinsky was interesting. He told us that pianist Arthur Rubinstein wasn't up to playing the work's first performance. But Charles Whitehead had it mastered - and it was a terrific way to conclude his recital.
Performance: Monday 14th August 2017 at 7.30pm. He performs again on Wednesday 16th August at 7.30pm