Image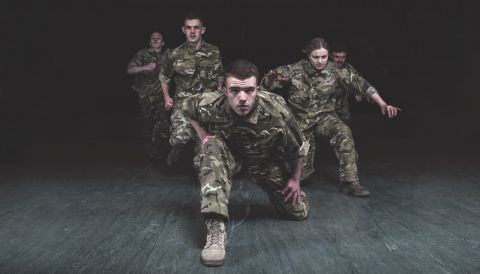 Company
Rosie Kay Dance Company
Production
Rosie Kay (Choreographer and Director) James Preston (Producer) Louis Price (Set, Costume and Video Design) Annie Mahtani (Composer) Ben Payne (Dramaturg) Mike Gunning (Lighting Designer) David Cotterell (Visual Artist)
Performers
Duncan Anderson, Luke Bradshaw, Reece Causton, Harriet Ellis, Ben Jones
At a real life army base in the heart of Edinburgh, five dancers tell the story of five soldiers, following the story of this unit through the discipline, antics, relationships, battlefield and aftermath.
Both choreographer Rosie Kay and the five dancers have all gone through tough physical army training, which makes the piece authentic and visually powerful. The dancers perform drill and exercises within their choreography in an intense, physically demanding performance that pushes them to their limits. Although the piece is stark and honest, there is a subtle metaphorical side to it that portrays the demands of army life in intricate detail.
5 Soldiers is not just a demonstration of army life but the stories of these five soldiers. Each of them stand out individually but make up their unit who drill together, laugh together, love together and fight together. Every member of this unit at some point is overwhelmed by the pressure of what is being asked of them and feels the side effects, but the unit hold themselves together.
The performance tackles the relationships, romantic or otherwise, forged in the intense heat of active service, and the togetherness or solitude this can cause.
The dynamic of there being one woman with four men is not ignored but recognised and respected. Gritty reality is juxtaposed with the beautiful art of dance, and strikes a deep chord for those who are witness to it.
The use of operatic music generates the feeling of depth and full appreciation of what these people go through. Choosing to tell this story through dance looks not so much through their eyes as through their souls.
The story these five soldiers tell is devastating. The integrity with which they work is majestic in this shudderingly frank demonstration of what it can cost to be a soldier.
11th-26th August, 8.30pm