Image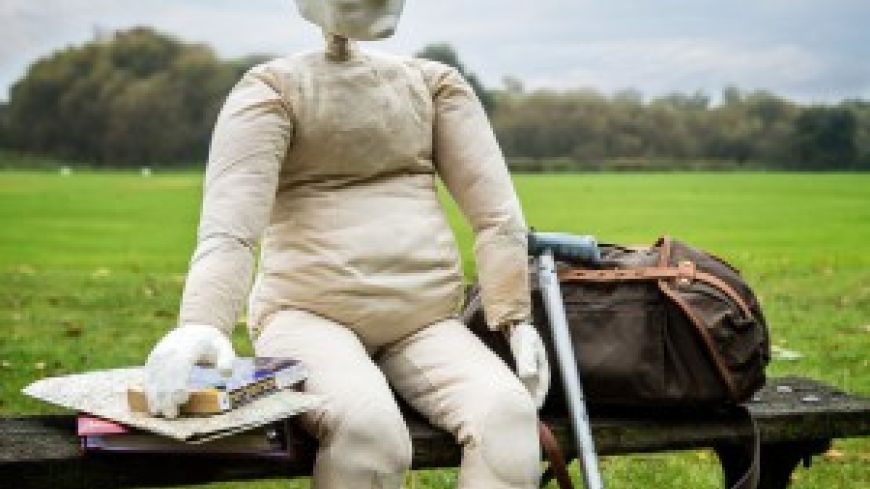 Company
Smoking Apples and Dogfish
Production
Gemma Williams (dramaturg), Samuel Wyer (design), Emily Appleton Holley (music) Sherry Coenen (lighting design), Alice Kristina Rose (seamstress), Smari Gunn (videographer)
Performers
Matthew Lloyd (Lead Puppeteer on Ted (head), William Aubrey Jones (Second Puppeteer on Ted (right arm) & ensemble), Molly Freeman (Third Puppeteer on Ted (legs)


Smoking Apples and Dogfish, two companies expert in the skills of puppetry and visual theatre, have come together to create a show that focusses on one man's journey with Motor Neurone Disease (MND).
Ted lives a quiet, orderly life. He collects stamps and looks after his pet goldfish. One day he finds his leg giving way. He starts to feel dizzy, is tripping and losing his grip in more ways than one. A scan diagnoses MND. Ted decides he has 3 choices – he can ignore what's happening; he can get angry or he can make the most of his life. Ted chooses the latter. He packs his valise and goes across Europe to Lille, Berlin and Venice with his goldfish where he gathers rich experiences he can store up and feed from in memory.
This is a sensitively produced and beautifully realised piece of theatre using shadow puppetry to echo and expand on events on stage. Its original atmospheric sound effects and musical score from Emily Appleton Holley contains gorgeous sombre notes laden with sadness. The three puppeteers bring touching life to the plain cushiony puppet that is Ted and to his continental lady friend who, though no more than a disconnected head and a hand, is touchingly life like.
The gentle performance imbued with quiet humour is mostly wordless, apart from the occasional lines from a computer generated voice associated with Professor Hawkins'. Such is the skill of this group that it is possible to imagine emotions on the blank white face of Ted as his cloth body is manipulated to show his struggle to rise from the chair that so quickly becomes a head supporting wheelchair. Their choice of a cloth puppet who needs support is the perfect figure to give the message of the inevitable helplessness that MND brings.
Motor Neurone Disease is a subject close to the hearts of both companies with two of the cast having lost their Grandfathers to the disease. While raising awareness of the illness, they have managed to create a dignified and positive take on that part of MND sufferers' road to dependence. It is particularly moving for anyone who has witnessed the degenerative effects of the illness on a loved one but also a lesson to everyone to do what you can when you can. Rather than focussing on the horrors of this debilitating and as yet incurable disease, the show's strong message of "living within not dying from" MND is extremely moving. Top marks to these wonderful puppeteers!
6-30 August 16.35 age recommend 11+