Image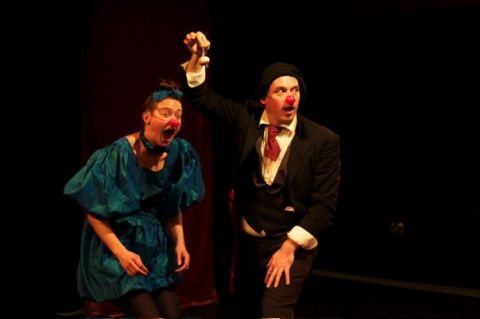 Company
Aurora Nova Productions
Production
Pablo Ibarluzea (director)
Performers
Jaimie Carswell, Nancy Trotter
Take two red-nosed clowns, a chair, a wee stage and a box of vegetables and you've got the mad set of compressed circus acts that is Cirque de Legume. This is an Irish-based company that won the Bewleys Theatre Award in 2009 and is made up of Jaimie Carswell, Nancy Trotter and director Pablo Ibarluzea, who are all Lecoq trained.
To the tunes of circus and dance music, we are treated to the zany imagination of this great team who show us a cabbage as a wrestling, howling dog; peppers as thrown slicing knives and syboes as swinging trumpets. Sound crazy? Well, no more crazy and much more kind than using the poor performing beasts of old. Although Jaimie is pretty poorly treated by Nancy as the Spanish horse being beaten by a leek and force fed carrots!
They use the codes conventions of circus, variety and music hall and, with eager exaggerated gestures, transpose their focus to a heap of old vegetables and their slighly overused but compelling catch phrase, "How about that?" And it works! The audience responded every time.
They use mime and magic and clever clowning in this unusual and very funny show that is full of mad delights to make all ages laugh. It goes beyond mere slapstick into an absurd world where the two performers mask their professionalism behind an illusion of appealling anxious naivety. The vulnerable onion striptease and hypnotic beetroot are unforgettable!
Show Times
4-30 August (not 16), 2.30pm

Ticket Prices
Mon-Thurs £9 (£7), Fri-Sun £10 (£8)